Historical novel set in Silk House school
Kayte Nunn brings the historical secrets of Silk House to life
Some novels just ooze atmosphere and that's what this novel brought for me. Setting is key here as it's the old school in the present day that reveals so many secrets of the past…
Three timelines, three main female characters. It's like one of those silk woven threads that weaves through the novel when the three stories come together to form the bigger picture.
Set in England ( on the road between Bath and London) and in London itself….let's head to The Silk House…..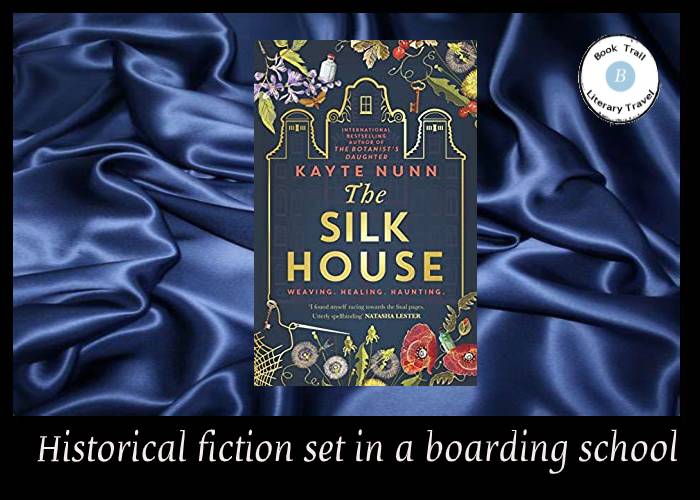 #Bookreview
Transport yourself to the secrets of a boarding school in England and the silk markets in London.
The Silk House of the title plays a role in the three timelines. Each story builds the next layer of the story so by the end you have a rich historical tapestry of depth and colour:
'It was as though the layers of the house's history were pressed together like a book, with some of the print – past events – leaching through the pages. It occurred to her that the top one, on which the new history was being written was now partly her story – hers and the girls.'
The story of a boarding school with secrets and a very dark history thrills from the start. Each page drips with atmosphere and it was the most beguiling tale. The author has used a brilliant way of telling the story and the pace, writing and characterisation really lends themselves well to the story they produce.

In each of the three story threads, we learn even more about Silk House. Present day sees Thea come to teach from Australia as she soon finds out that the old building might be trying to tell her something. We learn as Thea does and perhaps  a bit more as we meet Rowan and Mary from stories in the past. Rowan is a woman who finds employment as a maid in a silk merchant's house. She is a remarkable character as she has  a talent with helping people with herbal medicines. Of course, people interpret this as witchcraft…
The world in the two past story threads was not a nice one for women. Where one character is accused of witchcraft, another one is refused entry to the world of silk-merchants. Mary wants to become a silk-weaver in a world and industry dominated by men. Both Mary and Rowan's stories reveal the shadows of Silk House. Each strand of this story is clear and interesting in its own right, but when they combine…….wow.
The attention to detail  in this novel is really quite something. This is an author who is meant to write historical mysteries with several threads.  I was totally enraptured with the pinch of supernatural and ethereal strands which completed the picture. This is a complex story but carefully crafted.
Very vividly drawn, the setting of Silk House is a very memorable one.

BookTrail Boarding Pass:  Silk House
Twitter: @KayteNunn  Web: kaytenunn.com