Histfic set in 1880s Birmingham – The Penmaker's Wife Steve Robinson
Novel set in Birmingham's pen and jewel industries
Histfic set in 1880s Birmingham – The Penmaker's Wife Steve Robinson  – The premise says 'Alias Grace meets Peaky Blinders in this tale of obsession, ambition and murder in Victorian England.' Well, that is a reason to read it and make no mistake! It's Victorian England, a mother is on the run from her past and has moved to Birmingham to escape. She gets a job as a governess and even marries. The past will not let her go however. And why is she so keen to move on?
The cover of the novel also caught my eye…ornate and exquisite…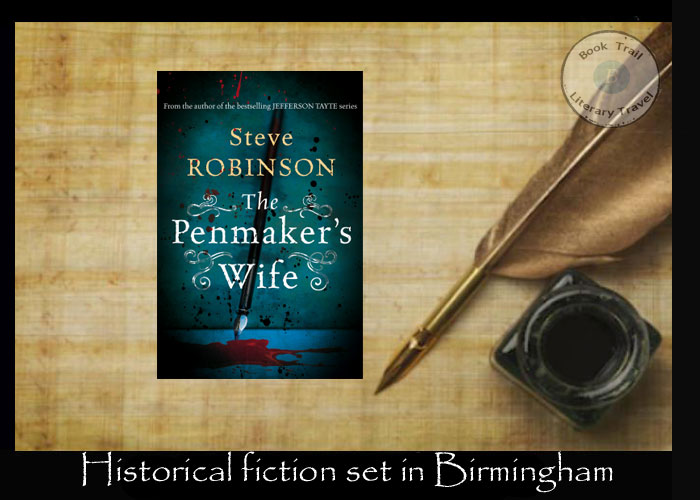 #Bookreview
If you want to immerse yourself in  late 19th century England, from the dirty streets of London to the jewel rich homes of Birmingham, then this book is good on settings. I don't know Birmingham very well but this novel really does take you into the jewel quarter there and shows a sense of place and time that is very fascinating to experience.
The whole theme about the manufacture and importance of pens was interesting. Might not seem so at first sight, but It was intrigued to find out about how they were made, why they were important and why now there is a pen museum in the very quarter where the book is set. All fine details are woven into the plot and it's insightful to find yourself in this world.
The romance part of the novel wasn't its strong point for me and this was more of a subplot than the main thread. The characters and their reactions didn't equal the well developed settings for me and it was the jewel quarter and pen manufacturing which was the most interesting. The novel is strong on setting, atmosphere and mood so you can easily place yourself in the life and times of the characters. There are some wonderful snippets about pen manufacturing and the gem industry in the late 19th century. I've never been in this world in a novel before and I enjoyed my time there. Nothing over explained or boring. A nice flow of a story in an unusual environment.
Effie and William were not people who I felt changed much over the course of the novel and this was disappointing as I wanted to find out about them and how they had grown.As for Angelica – well she had to put up with a lot of problems and challenges!
There's much to like here. A lot in fact. I even contemplated buying an ornate pen and some homemade paper to write this review using a calligraphy style but sadly, the computer won out. I will stay in the 1800s for a little while longer however.
Twitter:  @SteveRobinson01    Web: www.steve-robinson.me