Histfic inspired by true story – Triflers – Camilla Bruce
Belle Gunness – Triflers Need Not Apply
Based on the true story of Belle Gunness whose murderous rampage began in Chicago in 1900, this is quite the story. Belle might have a name of beauty but it's more the beast in this case. Triflers Need Not Apply is a novelistic tour de force exploring one woman's determination to pay men back for all they have taken. Are you ready to meet Belle?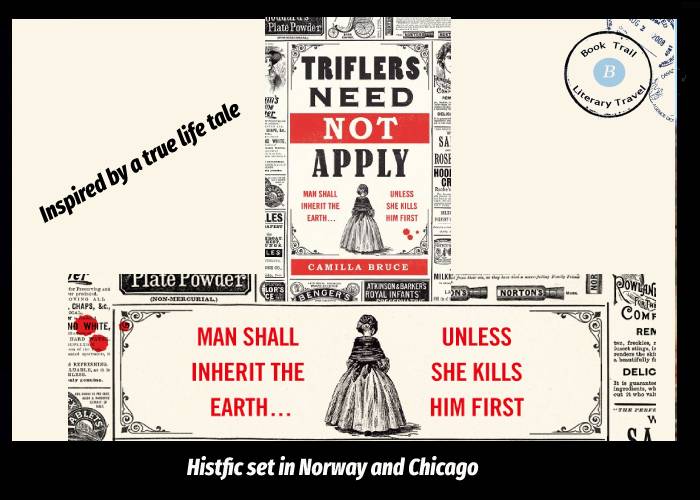 #Bookreview
I was quite nervous about reading this book. A novel inspired by a real life serial killer was always going to be something. How would the author weave in the facts of the real life case and bring it to life? Very well is the answer. This book is a very dark tour de force. It's a gruesome tale and a violent one at that. Disturbing and very very dark. Brilliantly dark.
Before even starting this novel, I really wanted to look up Belle Gunness but I didn't. I wanted to meet her in this book and really get under her skin or she, mine. I think that was the best option as this book and this women terrified and fascinated me in equal measure. Who on earth was this woman and why did she end up the way she did? What did she do and why?
Well, it's not long before you find out. Belle was a victim herself in many ways. Her early years were hard. Men abused her and belittled her. Even her father was a tyrant.  To him, she could even be a changeling. Charming! With a father and male friends like Belle's who needs enemies? Perhaps the saddest moment of all in the early years is the loss of her baby. The father of that baby kicks Belle in the stomach so she miscarries. I really felt ill at this point.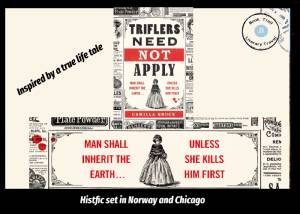 Despite what has happened, there is never a reason to go on and kill people of course. However, Belle is  prime example of how life can really drag you down and deal you a bad hand. She never really had a chance, yet we are never meant to feel sorry for her. Think of Aileen Wournos for example – she is one determined woman but just uses her mind and resilience to do wrong.
This is quite a remarkable story. A woman who went through so much grief and tragedy goes on to cause it herself. I couldn't believe this was based on a true story. The fact she was Norwegian and moved to America gave the story an added angle of interest too. Everything about this novel felt fresh and unique. I love a story mixed with truth and fiction. Glad to visit Belle in her Chicago setting however without actually going there!
There was a part of me which admired Belle. Not for what she did of course, but the way she never let things get her down. If only she had survived by doing something good and constructive. Imagine. This level of determination and strength could have resulted in something quite amazing. For a story, however, Belle is one fascinating character and I was in shock and awe at the same time.
The settings – Norway and Chicago-are well evoked. The contrast between them is quite something. I was pleased to be transported back to this time but also glad to be able to close that page and come back to the present.
Hard-hitting and fascinating. The writing is sharp and compelling. Highly recommended!

Twitter: @millacream   Web: //camillabruce.com/