Golden Age Mystery set in Yorkshire and London
Yorkshire Mortmain Hall in the Golden Age
A hall in the middle of Yorkshire where guests gather together for a very important reason. Summoned to the hall for one reason and one reason only. A stranger on the way to a funeral is on the Death Train. A female detective with a quirky way of investigating..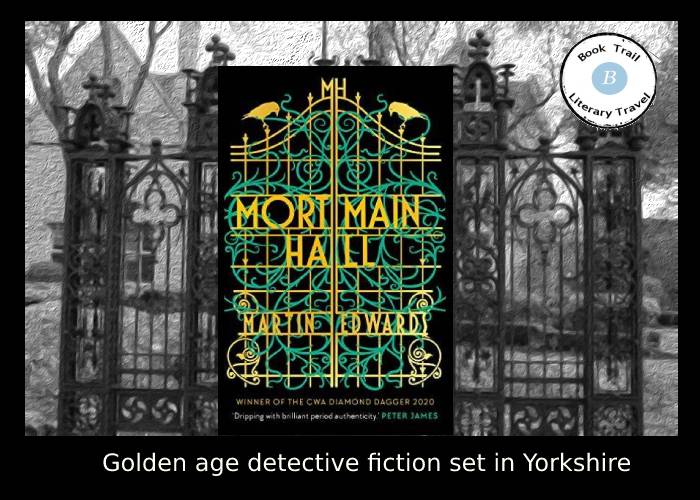 Setting: trains and a spooky Yorkshire hall

#Bookreview
Get onboard the death train and end up at Mortmain Hall..
When a novel starts with someone trying to get into the death train to warn someone about something, you know the book is going to be interesting. When it's 1930s Yorkshire and you are in the hands of literary guide Martin Edwards, then you know it's going to be great.
This is actually the second in a series but it's easily read as a standalone. Rachel  Savernake is a detective with a difference….( no spoilers here). She also has an interesting back story and I found her fascinating to read about. Jacob as her sidekick was an excellent choice as he complements her well. Rachel is somewhat scary and doesn't take no for an answer whereas Jacob is her less serious and often funny sidekick.
The whole set up of this novel – people who have been involved in crimes in someway – is very nicely done. The Golden Age scene setting is very good. First we board a train to a Necropolis with people sneaking in the train carriages intent on murder, then we are in a courtroom. A bit of cricket and then the office of a golden age detective. There's some fascinating set pieces and is very visual so I was completely immersed into this world. I was slightly nervous when I kept having to return to the dubious Clandestine club though….
By the time I got to Mortmain Hall in rural Yorkshire, I was completely wrapped in this golden age world and the very complex but brilliant series of mysteries and investigations. The guests at the hall have been gathered during the novel and this second act of the story, if you will, is very Christie-esque.
A story and a series of settings in the hands of a crime fiction Master. No surprise he won  the 2020 Crime Writers' Association Diamond Dagger.

Twitter:  @medwardsbooks          Web: Martin Edwards Books