Germany comes to Newcastle Noir
German Historical Fiction is coming to Newcastle Noir in less than three weeks and it's going to be a gripping panel – what a step into the past this is going to be!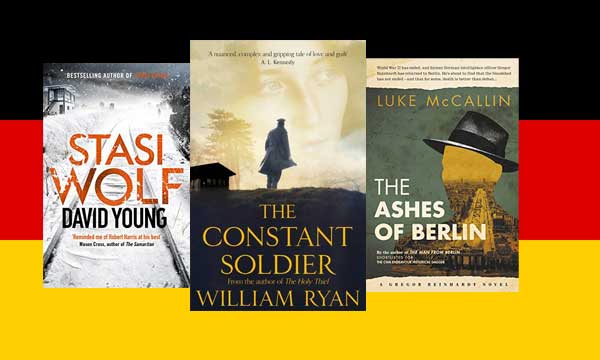 This is set to be one of the most gripping and taunt panel at Newcastle Noir. Authors who delve into the heart and soul of Germany during and after the Cold War, who look at the relationships between the authorities and the people, between the changing authorities and the trauma for the man on the street.
Cold War Germany  – or indeed Sarajevo, the very place where the first World War was triggered feature heavily in the novels below…
Journalist, now author and THE guide to the Cold War in fiction form. Stasi Child and Stasi Wolf are his two novels featuring Oberleutnant Karin Müller. In Stasi Child, 1970s Germany is weighted down with double meaning. And in Stasi Wolf, we visit Halle-Neustadt – a new town which is the pride of the communist state – and Karin and her team are forbidden by the Stasi from publicising the disappearances, lest they tarnish the town's flawless image.
If you haven't read Constant Soldier yet, then why not? This novel will make you cry and gasp and go through every emotion you didn't think possible. Heartwrenching!
If you need a guide to the cold-war in Russia, then his Captain Korolev noels are the place to go!
Luke has actually worked for the UN, so his novels about a German Intelligence novels working in both Sarajevo and then Berlin really capture the mood and time of a period of history we think we know everything about but actually don't. Have you read an account fictional or otherwise of the war's atrocities from the point of view of a German soldier? The Ashes of Berlin is the one set in Berlin
And let's not forget the expert interviewer – Kat Hall – who will steer you though the panel. There's a certain guide 'Crime Fiction in German' she's the editor of, as well as being the crime fiction reviewer of The Mrs Peasbody Investigates blog
The Panel will be held on Saturday 29th and is from 3pm  till 4pm – You can buy your tickets now in three ways:
– In person at the Lit & Phil (23 Westgate Rd, Newcastle upon Tyne NE1 1SE)
– By telephone on 0191 232 0192.
See you there!