From one Literary Sofa to another…
Isabel Costello lives in North London and is (amongst other things) a writer, linguist and enthusiastic traveller.  She also hosts the Literary Sofa blog featuring guest authors, book reviews and her twice yearly selections of recommended new fiction.  Candid accounts of her experiences as a writer always prove popular, maybe because so many can relate to them.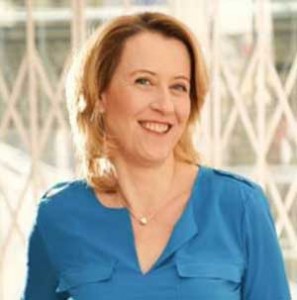 Hi Isabel,
Fancy a slice of coffee and walnut cake before we start our little chat? Know it's your favourite…
So, cake in one hand, cuppa in the other, we make our way over to the sofa which today is a literary sofa in honour of our special friend and guest.
So, Isabel, We've been dying to get you over to Booktrail towers for a while. So happy you could pop by. Dying to pick your brains about books and more books!
Your love of French fiction is well known – can you share with us a gem that you have found recently?
Not sure 'gem' is the word but Michel Houellebecq's Soumission is a provocative and fascinating read for anyone who knows or has an interest in France – I've already reviewed it even though the English translation (Submission) isn't out until September.  I'm currently reading Meursault, Contre-enquête by Algerian writer Kamel Daoud, which revisits Camus' L'étranger  from the perspective of the brother of 'The Arab' who was shot dead.  It's very well realised with due respect to the original.
What is it about French fiction you love so much?
Obviously it's impossible to generalise about French fiction and running an English language blog means that I don't get to read as much of it as I would like, but one of the joys of reading in French is staying in touch with a language and country I love. I won't read French in translation although if I'm sent the English version I look at them side by side out of interest.  The art and skill of literary translation deserves greater recognition.
I enjoy the slightly philosophical feel of a lot of French novels and I like it that not everything needs to be slavishly literal or explained.  Ambiguity is a hallmark of French narratives of all kinds, including film: there may not be a happy ending, or indeed, any ending… (and yes, I do find that frustrating sometimes!)
I've been influenced by the way many French authors write sex scenes, in a way that is direct yet sensual and without awkwardness.  This avoids the need for the dreadful euphemisms and metaphors which are so problematic in English language fiction.
You also studied German at university  – which German books translated or otherwise could you share with us?
I don't have the same bond with German as with French (to be honest, I actually prefer Spanish even though I only know it to about GCSE level).  Until last summer I hadn't read a book in German since leaving university and was delighted to find I still could.  That was Maxim Leo's memoir of growing up in East Germany, Haltet euer Herz bereit (Translated as Red Love by Shaun Whiteside) and I enjoyed it.  More recently, my life is the richer for discovering Viktor Frankl's Trotzdem Ja zum Leben sagen (Man's Search for Meaning – not sure who translated this) based on his experiences in Auschwitz.  It's incredibly moving and life-affirming.
We love your Writers on Location section as we also totally love digging behind the story of a novel and its setting. Who would you like on the blog that has not been on yet and why?
That would have to be Malaysian author Tan Twan Eng.  I hope he's writing a third novel as his first two are breathtakingly good.  The Garden of Evening Mists partly inspired our family trip to Malaysia last Christmas and reading The Gift of Rain, set in Penang during the Japanese occupation of World War Two, whilst I was there intensified my response to this powerful and shocking story. I once met Eng briefly in London – he is delightful and (unlike his books) very funny.  I would love him to visit the Literary Sofa!
You're writing a novel yourself set in Paris. Can you share this with us and tell us a bit about it?
My novel moves between different areas of Paris, a place I know well and have visited countless times, but is primarily set in the 6th arrondissement around St Sulpice and the Jardin du Luxembourg and the somewhat less manicured 19tharrondissement in the northeast of the city – I like to leave the beaten track in fiction and on my travels.  A few other locations make an appearance: Nice, Honfleur and the Pacific coast of northern California where my first person narrator Alexandra grew up.  On the surface it deals with infidelity but it's really about a lot more than that, and mostly about love.  I'm hoping this one will get me a deal  – I dream of seeing it translated into French so I'd get to do author events in France!
Which novels do you have in your sights at the moment?
For the last couple of months I've been tracking down titles for my Summer Reads selection which will be unveiled on  20 May.  It's a big undertaking as I read every one of the final dozen and many more in full (not to mention those I abandon) – this really counts for something with my blog readers who know I don't recommend novels based on blurbs.  As always, the new selection has a wide range of settings, genres and subjects – I can't wait to hear what everyone makes of it.
Love your Fiction Hot Picks and like us you loved The Strings of Murder and Hausfrau! Very strong on location. Where would you love to travel via fiction but haven't  been for real yet?
I've never been to South America and would love to read something set in Argentina or Patagonia, the top places on my wish list.  But I'm also keen to explore South East Asia further, starting with Vietnam.
Best literary location you've been to?
No contest – New York City, and especially Brooklyn, which I've come to know and love as reader, writer and traveller.  I have a huge weakness for novels set in NY and am really looking forward to going back there in October.
Best real location you've been to?
Difficult to answer, but for its stunning natural beauty and fabulous food and wine, it's got to be New Zealand.
We're with you on that one! Gorgeous country. Thank you so much Isabel for popping by. And thanks for the book recommendations. Can't wait for your Summer Reads! Do stop by the Literary Sofa for more of Isabel's musings.