Crime fiction set in Paris – Hysteria by L J Ross
A Paris adventure for Alex Gregory
Crime fiction set in Paris – Hysteria by L J Ross – There's a jaunt to Paris this time for Alex Gregory. He's barely got out of Ireland in one piece after his last case (the first book Impostor) but he soon finds himself entangled in a mess when a woman is attacked in a top hotel. There's much more to this than meets the eye of course and he has to work out how the French justice system works so that he might work with them instead of against them. This is stepping on toes territory and he has to be very careful…
This is not your straight-forward case and it's not the glamour of the city or its fashion week that you see here..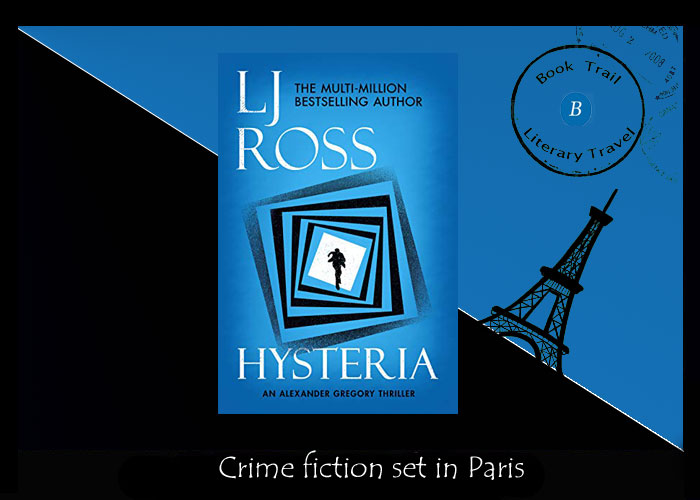 Setting:Paris and Fashion Week

#Bookreview
I'm really liking this new series. First Ireland and now we're in Paris, during Fashion week no less. Someone is found attacked in a hotel room and the police get involved quickly as there is something not quite right about this. There's much more going on than meets the eye so enter Alex Gregory who gets roped in to the investigation. Tangled, you might say.
The destination is strong and the setting very unique – I know nothing of the goings on of fashion week but have lived there during the buzz of that week. The city becomes mad, alive like an ant nest and the sense of urgency and chaos is what Gregory has to work in.
He visits places in and around the city as the investigation takes one new turn after another. There's more to this attack than meets the eye and someone is trying very hard to make this look like something else entirely. Gregory is in over his eyeballs and he's lost, bewildered but never lets up his search for the truth. Interesting to see how he works in France on a moments notice whilst liaising with the team back in the UK. There was also more to Gregory in this book – his love of jazz and his time in Paris' jazz bars is one journey I would love to do with him! The rest, I'll just enjoy from the book.

BookTrail Boarding Pass: Hysteria
Twitter: @ljross_author  web: www.ljrossauthor.com/