BookTrail Ambassadors – An Alaskan Christmas
The Lesson of Alaskan Winter Holiday Books from BookTrail Ambassador Elisabeth from Alaska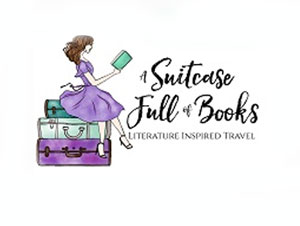 In a place where snow covers the ground more than half the year and there's a city called North Pole where Santa's House sends out annual Santa letters to children, Christmas stories aren't about Santa. Nor can you find stories about numerous gifts of all sizes piled beneath a tree, or around a menorah, because for much of Alaska, winter means less access to the outside world.
The arrival of gifts and supplies depends on the weather and the limited ability of any means of transportation. And nobody writes about snowy wonderlands either, probably because nearly every Alaskan story involves a fight for survival against the winter elements. This is what I found when I went searching for Alaskan December Holiday stories this winter.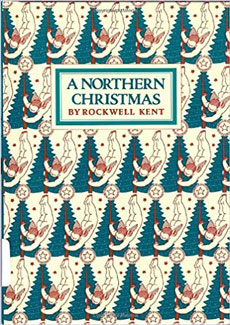 Stand-alone Alaskan Christmas stories are few and far between because the holiday is often just another wintry day, marked only by allowing oneself some time off from the daily routine of subsistence activities. When it is mentioned, it's just another chapter in a book. I managed to find two Christmas stories published about 40 years apart, one from 1941 and the other 1985. Together they illustrate that Christmas in Alaska hasn't changed much- Here Christmas is about enjoying family time with what little you have around you.
Northern Christmas is a short excerpt of a diary written by Rockwell Kent in 1918. Kent was an illustrator who decided to spend a year perfecting his art by renting a remote cabin in the Alaskan wilderness where he could focus on creating and improving his sketching and drawings. He took his eight-year-old son with him for this adventure to Fox Island and the only other person in the vicinity was an old gold miner. The three inhabitants of the island relied on a boat to arrive with provisions. When winter started, the boat came less and less often, as the weather permitted, so Christmas was a small affair. Father and son made drawings for presents and their lonely neighbor joined them for a small, but cozy family meal.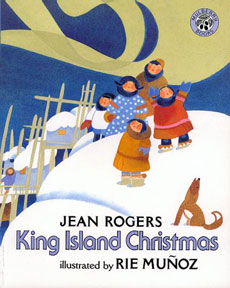 King Island Christmas is a children's picture book written by Jean Rogers about the year her friend, and the book's illustrator, Rie Munoz spent teaching school on King Island. The women's collaboration tells the true story of the efforts the villagers had to go to that winter to bring the priest ashore in time for Christmas mass. Fighting the island's rocky geography, the Bering Strait winter seas, with wind in their faces, 10 men carried a boat on their backs to a calmer island inlet where they could launch to meet the large ship with the waiting priest.
Upon successful retrieval of the clergyman and return to the village site, Munoz's watercolor illustrations show the people of King Island spending Christmas inside enjoying family time while fish hang on drying racks and other subsistence activities are put aside for the Christmas holiday. The story of King Island Christmas has become Alaska's equivalent to the Nutcracker since its publishing. It has been recreated in musical theater form to be performed each winter, and the play has even been performed internationally. The effect is that this is what everyone assumes holidays in Alaska must be like.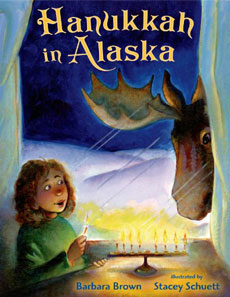 I wondered, as both the Christmas stories take place in remote locations, if the holidays in the larger Alaskan cities are entirely different. I couldn't find any Christmas stories to compare, but I did find a book titled Hanukkah in Alaska by Barbara Brown. This funny children's book takes place in Anchorage and is less about the celebration of Hanukkah, and more about the child's very-real concern that the moose in her backyard will get tangled in the ropes of her backyard swing.
In the end, she entices the moose away from her yard by sharing her potato pancakes and spends the rest of the evening with her family in the now moose-free backyard watching the Northern Lights dance overhead. It appears, even in the larger cities the winter holidays is also about finding a way to live peacefully beside the large mammals which share our spaces, and spending time with our families.
So happy holidays from Alaska and I hope you all are able to enjoy some peaceful time with friends and family, as well as whatever animals happen to be playing in your own backyard!
Elisabeth from Alaska – A Suitcase Full of Books is The BookTrail's Alaskan BookTrailAmbassador