Bookshops – Forum Books
We have some wonderful booksellers up and down the country whose main passion in life is to ensure each and every one of us finds our perfect read. There is nothing quite like walking into an indie bookstore and taking in a deep book breath. They promote author events, authors, books and all book related things. We need more of them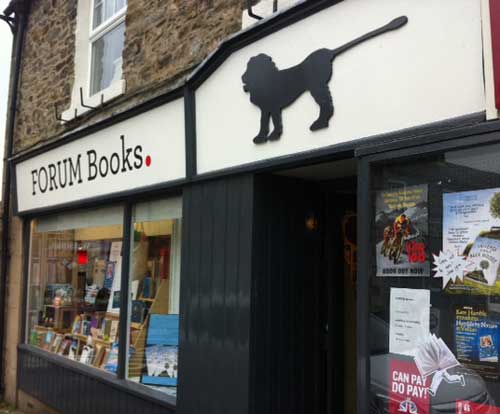 At a time where there are bookshops and libraries closing down all too often, it was a joy to hear of Forum Books in Corbridge/Northumberland and the opening of their new children's bookstore.
We've had lovely Helen Stanton over for tea and cake – our mission to celebrate and say thank you to these wonderful people. Well, we travelled up to Corbridge as well we wanted to visit this lovely little gem in Northumberland – Mari Hannah land you might say since local author Mari Hannah has set a few scenes around these parts (most notably the church opposite this very bookshop in Murder Wall's opening scenes)
Hi Helen
Now, even if I say so myself, I've made rather an ambitious cake for us to enjoy – in keeping with the independent booksellers week, I've done an independent design. Plus in homage to your wonderful shop I've made the cake in the shape of a fort, a roman fort of course as well we are in the heart of Northumberland and I believe Forum means 'a public square or marketplace'?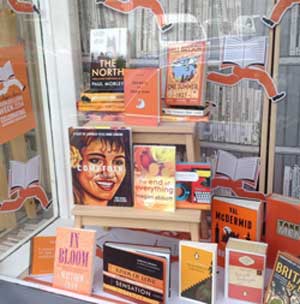 So, Helen, what do you love about working for Forum?
Have always dreamt of running my own bookshop – the exciting new books coming out, the trusted favourites that never fade, the conversations about books..hard work but never feels like work…if that makes sense
Why is IBW important to you?
It's great to have an opportunity to make a fuss of what we do all year round
Tell us about your new children's bookstore!
Our new bookshop Forum Books Kids was opened a few weeks ago by the Gruffalo and its very exciting to have made a space for children to come and discover books for themselves. We've a toy till on the counter ( a lowered easy to reach section!) and a reading den. And a garden to grow into next Spring with any luck. We're planning regular story times, events and other fun stuff! Watch out!
What has been your favourite author event at your store?
Ooh thats tricky…this year I loved Hannah Kent as I was so taken with Burial Rites, but then Tim Winton was special too. And I have a lot of fun with cookery / foodie events – Sabrina Ghayour & Diana Henry were both so lovely, great company & delicious..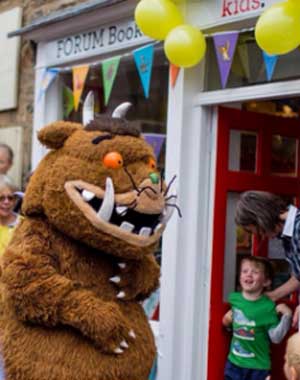 Who is coming soon?
Our next is David Bez & Salad Love – with a demo! Another first! A great book of 260 salads – one for every working day – inspirational & practical. July 17th.
Emma Chapman is stopping off as part of her amazing Indie Book Crawl & we're having a Sunday tea time event with Lucie Whitehouse – cucumber sandwiches & cake! I'm very excited to have got both authors together as they both start with seemingly lovely, working marriages but by the end of each first chapter this fractures & each take us on very uneasy, suspenseful page turning journeys! July 20th
What are you reading at the moment?
I'm reading The Miniaturist by Jessie Burton – she'll be here August 20th – and completely hooked! A gorgeous read!
Which fictional character would you like to meet?
The first that pops into my head would be fifteen year old Charley Thompson from Lean on Pete by Willy Vlautin – that kid! And Willy Vlautin's books always resonate with a truth. So wanted to reach out and grab Charley…
Ah Helen it's been an absolute pleasure chatting with you about books. You're like a book therapist – people should come and see you when they need a book to cheer themselves up and need to talk books to someone who knows.
I feel calm and ready for my next read.