Books set in distant lands – BookTrail Guide to 2017
There are some crackers out in 2017- 2016 might have been good but the books due out in the new year are quite amazing. Yesterday the Booktrail presented some staycations – books of 2017 set in the UK but today we go further afield. There's some fantastic literary packages to take you places this year… so BOOK now and mark the dates of these package holidays: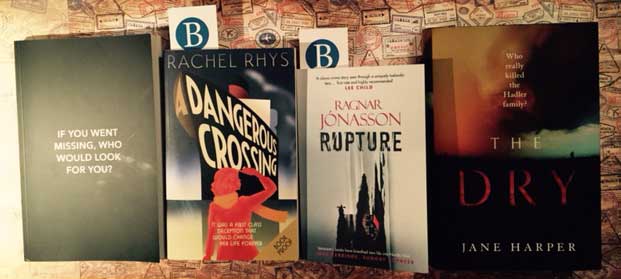 January – Australian Desert –
 The Dry – Jane Harper
The fictional town of Kiewarra is a place of desperation, drought and flies. A rural "community"in the loosest sense of the terms as these people might live close together but they don't exactly want to be there.  Open the first page and the extreme heat takes your breath away, the humid air will make your eyes water – the flies who seem to invade this dry humid, lifeless place are everywhere.
Kiewarra is said to be some five hours from Melbourne. It's a godforsaken place where a man who once lived there returns but is an outsider to everyone he meets. An entire family has been murdered – children included and the story takes you to some dark places. But those dusty roads are twisty and full of potholes and red-herrings.
Booktrailer verdict: "Brilliant, heart stopping – you will taste the dust, feel the heat and hear the flies buzzing across the pages. You will never forget your visit to Kiewarra!"
January – Iceland
Rupture – Ragnar Jónasson
If the heat of Australia is too much for you then you might want to consider a stay in Iceland. Well, I say a stay but as soon as you land here, you'll be whisked up to the most remote part, via a tunnel which blocks off the small villages from the rest of the world it seems. A woman died there many years earlier having been poisoned either by herself or someone else. Meanwhile, in the present day, there's a huge complex scandal involving death and a missing child. Lies, underhanded actions,  intrigue and some very dark secrets here. Blimey, this must be one of the most complex and satisfying stays in Iceland and Siglufjörður and to a new claustrophobic place – Héðinsfjörður. Dark Iceland just got a hell of a lot darker…
Booktrailer verdict: Can I love Ragnar and his books even more than I do?
Canada – Bondrée
Boundary – Andrée A Michaud
Hot and cold in temperature this one. It might be summer but there is a definitely chill in the air .1967.  Boundary lake is a holiday haven on the US-Canadian border and it should be a place of peace and calm. It does sound idyllic, with music on the radio and the aroma of barbecues in the air. Then one young girl disappears and the shadows come followed by more darkness.
This is a French Canadian literary gem. For a short novel, this is densely packed. What happened there out on that lake at a holiday idyll? French Quebec sprinkled through its pages, literally and linguistically. Yup one to watch out for.
Booktrailer verdict: If you went missing who would look for you? Would anyone? Blimey if this is the strapline you can imagine what's inside.
Life on the open waves
A Dangerous Crossing – Rachel Rhys
You can't get away with anything on a ship, you know – someone always finds out'
Set sail for a  5-week journey onboard a ship sailing from Tilbury docks to Australia Departure time: August 1939
There's something about a book set on a boat and this one is all about the journey and not so much the destination. Who is on that ship? Can a woman off to a new life sail happily side by side those fleeing war, those who may have gained or be gaining from war. Anyone and everyone you can imagine is on this boat in the middle of nowhere. Water all around them, nowhere to run or hide. This is a floating example of society in Germany and other countries at that time.
Booktrailer verdict: Read down by the harbour or near a river for maximum effect – lounge back and take note of who you meet. Put on your sunglasses and watch your fellow passengers…"
These are just four of the fantastic literary journeys you can go on this year – no passports needed and all for the price of a book!