Between the Stops on a London bus with Sandi Toksvig
Hop aboard Bus no 12 with Sandi Toksvig
Between the Stops on a London bus with Sandi Toksvig – well if this is not just the most fun I've had on a bus journey I don't know what is. I thought I would read some of it on a bus since it's set on one. Although I'm not in London, I thought it was the right thing to do. So, I started reading it and actually missed my stop! That could have been my review. So good, you miss your bus stop – but don't miss this book. It's hilarious, witty, sad, heartbreaking, heartwarming and so much fun.
Between the Stops – The View of My Life from the Top of the Number 12 Bus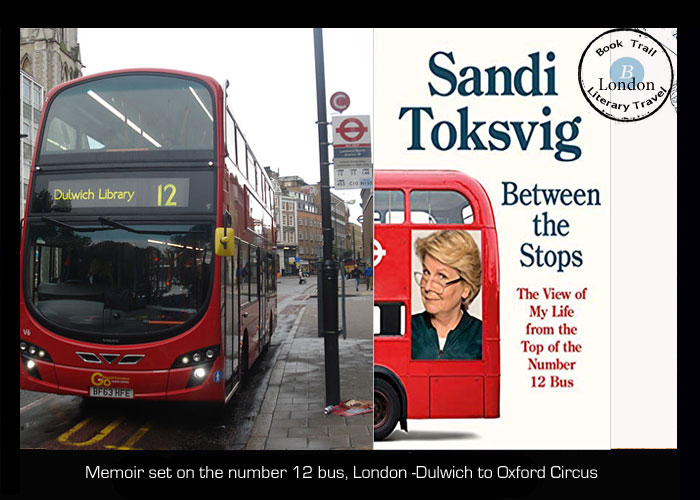 Setting: On the number 12 bus from Dulwich to Oxford Circus

#Bookreview
I have to say I have always loved the wit and humour of Sandi Toksvig. I am an ardent viewer of QI because of her and even watch Bake Off to see the banter between her and Noel and I don't even like cake that much. (And she admits she's not that keen either in this book!)
What a genius idea to take a bus ride and then to chat as if you were on a bus beside her, about history, a nice cafe, the other people on the bus and culture down in the streets below. Add to that a series of stops – where Sandi either gets off the bus or take a turn in a more philosophical sense to share anecdotes, childhood memories or stories about her family. There's so much to love here – sad moments as well as happy. But Sandi does what she does best – the on-liners, said with a straight face. As you read, you can see her expressions, that look (similar to the one she gives Alan Davies when he's doing one of his Alan things on QI) haha!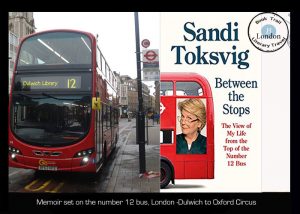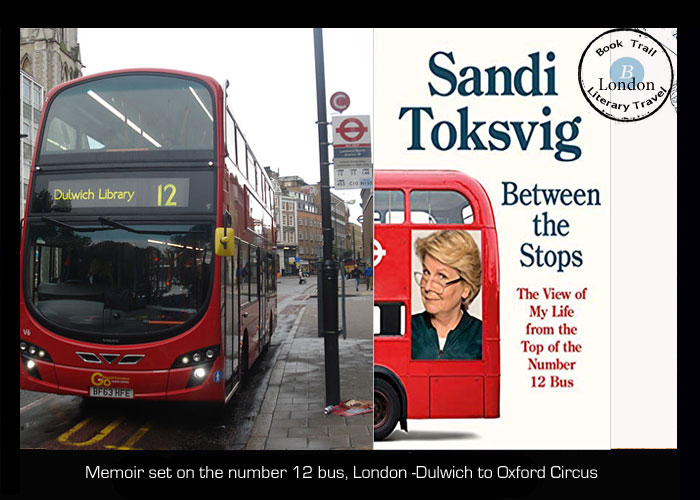 The bus journey is from Dulwich to Oxford Circus and it's a very fascinating and quirky tour. Sandi is naturally inquisitive, has a wicked memory for facts and the book really is like sitting beside her and learning about what you see out the window. Just don't eat a sandwich wrapped in plastic on a bus beside her! 😉
Why a bus and not a tube? Well, there;'s less to see on a tube of course and when you do see something you wish you hadn't. I admit this little anecdote had me snorting orange juice out of my nose.
There are very moving moments too however – how she has overcome abuse because of her sexuality or for just being a woman at the BBC. Her story of getting married, the woman she helped with a baby in the house….and then the updates later on in the book make this such a heartwarming journey.
There's snippets about life at boarding school in England, life in America, Danish anecdotes and more. So much in one book but it never ever feels like too much fact and information -it feels like a day spent well with a friend. It makes me want to start taking the bus much more now.
This review has flowed from my fingers. I was so sad to leave that bus! History, humour and Toksvig magic all for the price of a book (and  a bus ticket – you HAVE to take this bus journey before, during and after reading this!)

Twitter: @sanditoksvig  web: www.sanditoksvig.com