Bangalore set read, A People's History of Heaven
A People's History of Heaven by Mathangi Subramanian
Everyone has an impression of what heaven might look like and represent. Even those of you who aren't religious in the slightest have some kind of impression of heaven. This novel however takes you to Heaven, a slum in Bangalore. This is so far removed from the usual image of heaven that you can't imagine why a slum would be named this. But that's the cleverness of the story. The name reveals so much about the women who live there, their hopes, dreams and need to survive. The sense of community and friendship is what makes this heaven…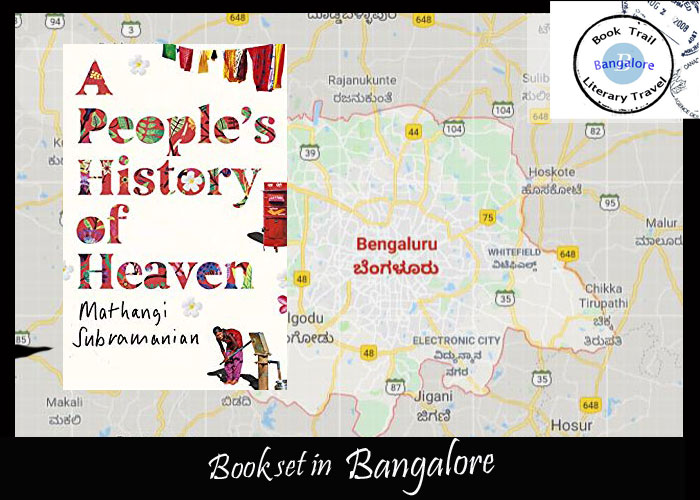 #Bookreview
A remarkable book this one. The title for a start is one that captures so many images, beliefs and expectations. Yet this heaven is actually the name of a slum in Bangalore. It's not just any slum either- for this is one made up mainly of women. Their men have abandoned them and so the woman here go and forage what they can. They have not produced male heirs so they must survive at they can. Imagine being on the bottom on life's pile as you have not given birth to a son?
Ironic and so sad that there should still be slums in this day and age, and that this one is called Heaven. But that's where the book shines – for this is a sort of heaven, where the people are faced with the worst yet manage to stay proud, their heads held high and these women who live there are the strongest I have ever met.
The story here looks at five best friends who support each other in everything they do. What remarkable people these girls are. They have nothing but their slum home yet when it is in danger of being crushed by the bulldozers, they stand firm and rage war. Their city may have forgotten them, but they want their voices heard.
I shall never forget Deepa, Padma, Banu, Joy  and Rukshan. Their story is woven beautifully like the threads of a sari. They are such fascinating characters with hopes, dreams and issues of their own. Some involving the simple wish to dance, others are struggling with their sexuality. What unites them all is a sens of community and brought to life through lyrical writing.
Gorgeous

Twitter: @mathangiwrites    Web: www.mathangisubramanian.com/