Travel to Helsinki with Katja Ivar
Helsinki bound with Deep as Death
Katja Ivar invites you all to Helsinki, but beware…..her novel is a one of crime fiction called Deep as Death…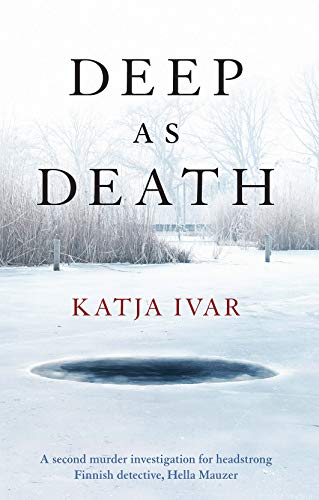 Imagine a Nordic capital steeped in snow, at the heart of winter. A bitter wind is blowing off the sea, and most people are huddled indoors; ice fishermen are practically the only ones out and about.  My character, Hella Mauzer, is a disillusioned, heart-broken PI who tries to eke out a living investigating a suspected murder of a girl who fell – or was pushed – through the ice in Helsinki harbor. The novel is set in the 1950s, and Hella is a woman in a man's world, doing a man's job, but she is competent and smart, and she won't be deterred.
As I was writing the novel, trying to put myself in Hella's shoes, I too roamed icy Helsinki streets, dressed in my warmest coat and fur-lined boots that used to belong to my grandmother. For a European capital, Helsinki is quite small: if you are used to walking, like I am, you can get almost everywhere by foot.
Because it was so cold, I'd regularly nip into one of the lovely cafes – Regatta is one, or Relove, that also doubles as a second-hand shop. The cafes smell of coffee – Finns are reputed to be the world's biggest consumers, with nearly four cups of coffee a day per person – and of heart-warming spices. Korvapuusti are traditional Finnish cinnamon buns; pulla bread is scented with cardamom – and both are irresistible. I'd wolf them down with my coffee, making all sorts of excuses for myself – you need energy when it's cold outside, you wouldn't dream of eating that every day (ha! of course you would) – before bracing myself to go out again. Another dash, and I'd stop at the Municipal museum on Aleksanterinkatu, at the corner of Senate Square; at the time, they exhibited just the sort of room from the 1950s that Hella Mauzer would live in.
Finns are lovely people, and I was very lucky to benefit from their assistance while researching my novel. A kind gentleman from Statistics Finland provided me with information about the prices and living wage in the 1950s and that was such a huge help. I also went to Tampere, which is home to a wonderfully informative National Police Museum. While not very large, the place was a treasure trove of information, with exhibits showing police weapons and uniforms, providing details of training programs and the list of requirements for joining the force. In the 1950s, Finnish police had been undergoing a rapid transformation, in the wake of the 1952 Olympic games.
It was amazing to see that some of the things we take for granted such as sirens on police cars. People thought at the time that this was a silly idea. They said that sirens would  scare the automobilists who'd drive into ditches. I had a lot of fun inserting this sort of debate into the novel, and I learned great many things along the way. Even though Deep as Death is first and foremost a fiction novel and Hella is a character who was born out of my imagination, the police museum's curator helped me get the historical context right – and avoid the most glaring mistakes.
The day I returned from Tampere, the sun finally came out and instantly transformed the city. Helsinki's architecture is a wonderful mix of neoclassic, art nouveau, modernist and industrial; it makes for a fascinating journey through centuries and trends. And at the heart of it lies a harbor, now almost dwarfed by huge cruise ships stopping there on their way to the Baltics or St Petersburg. I tried to pretend they were not there, because I needed to see the city through my character's eyes, as it was in the 1950s.  How would she investigate the death of a girl falling through the ice when everyone agreed to treat it as an unfortunate accident? To make matters worse, the victim was the sort of girl that no one cared about. No one, that is, but Hella. She wouldn't stop until she uncovered the truth, no matter what it cost her.
Thanks so much Katja!