Travel to Greece for One Last Greek Summer with Mandy Baggot
One Last Greek Summer – on location with Mandy Baggot
A very special visit to Greece today with the lovely Mandy Baggot! If ever there's an author who can transport you to Greece, then Mandy is it! Now, her latest book is called One Last Greek Summer so we're off for some sun and sand plus some wonderful Greek food right now! Are you ready? Let's Travel to Greece for One Last Greek Summer with Mandy Baggot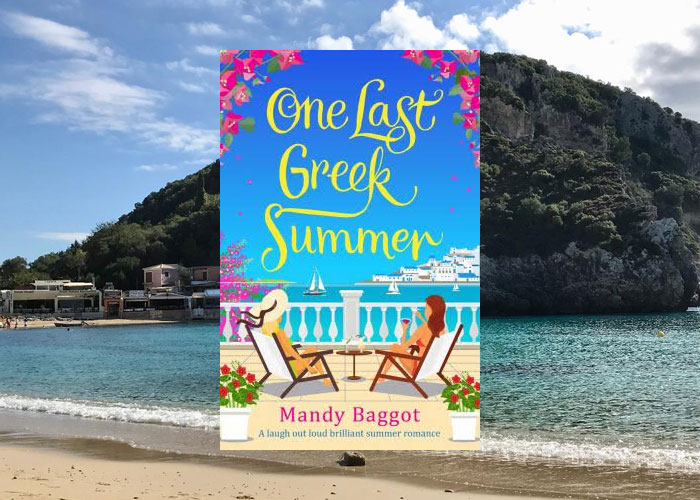 If you've watched The Durrells or if you've read any of my previous Greek beach reads you should now already be a little bit familiar with my favourite island, Corfu. Corfu is again the setting for my 2019 romance, One Last Greek Summer. So, exactly where are the towns/villages/bars/beaches that I've picked for my characters to tell their stories in this time?
Almyros
Almyros is the village the hero, Alex Hallas lives in, plus it's the location of the holiday cottage, Beth Martin and her best-friend Heidi, come to stay in. I picked Almyros as it's a lovely little scattered village right on the beach and I was lucky enough to stay in a gorgeous, rustic house just like Paralia View – although the ceiling did not fall down and the owner brought us homemade wine! There are two lovely tavernas I visit here:-
I am a member of some fantastic Corfu forums on Facebook, where lovers of the island share their photos, and find out or ask all about Corfu. When I knew that Beth was going to have an interest in sea glass, I asked the forum members the best beaches to find this on Corfu. A number of people said Rovinia Beach so this had to be a location Beth and Alex visited.
Dassia is a holiday resort between the two villages of Ipsos and Gouvia.  This is where Beth and Heidi book to go parasailing. I have to admit I haven't done this myself… yet but now I've written about it and watched endless videos of people taking part in it to hopefully get over the experience of it to the readers I think I might have to have a go. I used Dassia Ski Club as my inspiration.
Sidari
Sidari is the all-singing, all-dancing resort of the North of Corfu. You will find everything here! Golden sandy beaches, the rock formations of Canal D'Amour and numerous bars, restaurants and entertainment on the strip and also by the beaches. I have used a number of real places in the book that you can go and visit.
BookTrail locations in One Last Greek Summer
The Vault, the nightclub featured in One Last Greek Summer is fictional, but I think it would fit well in Sidari!
Roda
I adore the village of Roda and last year I spent quite some time here 'researching' all the best places to eat and drink! In One Last Greek Summer Beth and Heidi go to a party on the beach here near Pirates Bar. This is the perfect place to relax in the sun and enjoy one of their Ultimate breakfasts.
Now, my lead character, Beth Martin, tells you what it's like being back in Corfu after her first holiday ten years ago…
I never thought I would ever go back to Corfu. But, then again, I never thought I would end up being 31 and divorced… Life never turns out quite how you expect, does it?
It was Heidi's idea to head back to Greece for a week of being crazy on the island we first went to when we were twenty-one. But, I have to say, it's proving to be one of the better ideas she'd had for a while… I never did feel comfortable at Real Ale Club.
And Corfu is still that emerald gem of an island, full of lush mountainous terrain coupled with golden beaches and glistening seas and endless sunshine. It's making me feel alive for the first time in a long time… maybe for the first time in ten years.
What can I say about the food too? Heidi and I have indulged in way too many gyros already, plus divine dips and the freshest fish imaginable. Literally everything is Greece is heavenly… especially my first love, Alex. Although going back there with an ex is out of the question when you're 31, isn't it?
Well if you weren't hungry before, I bet you all are now!
Thanks Mandy for a wonderful tour of all things Greek!
Twitter: @mandybaggot Web: mandybaggot.com