Rosanna Ley Travels to Cinque Terre, Italy and the Lemon Tree Hotel
Book into the Lemon Tree Hotel with Rosanna Ley
Some authors take us to rural locations and allow us to explore the landscape, see the rivers, smell the flowers and meet new people. Rosanna Ley takes us Italy in her latest book and even builds a fictional hotel there. So readers can stay there for longer! How good is that? So, Rosanna Ley is not just your literary guide this time around, she's also waiting for you to book in her hotel too! So come with us as Rosanna Ley Travels to Cinque Terre, Italy and the Lemon Tree Hotel
So Rosanna, tell us more about your hotel!
The Lemon Tree Hotel is set in the cinque terre region of Italy which is on the gorgeous Italian Riviera, specifically a small village called Vernazza. There are also some scenes in West Bay, Dorset, which is where I live!
How you do evoke setting in your work and why is location important to your stories?
Hopefully it is evoked simply by being integral to the story. I also love to write about food (Elene in the book is chef at the hotel) wine and landscape. In The Lemon Tree Hotel the plot literally could not exist without the setting because part of the storyline is based on an actual happening in the area (I can't tell you what as it would be a spoiler!). The history and culture of any area I write about and/or visit is always important to me. I read and research a lot about the area before I create a story-line and before I visit to taste the real flavours of the place. Setting is also important in terms of inspiration (I am particularly inspired by Italy) and for the characters' journeys.
Where do you live and how does that affect how you write?
I live in West Dorset by the sea and it is a place that inspired me for years before I even moved here. Now, I love to walk on the cliffs and beaches when I am stuck with a plot and as a welcome relief from sitting at the computer. I also like to write freehand in a notebook, ideally sitting on the beach in the summer!
What do you like about where you set your books? And not like?
That is a big question! I pretty much like everything about Italy, but of course I have set my books in other places such as Cuba and Burma where the setting (and politics) is much more complex. In Cuba for example I loved the buildings, the dancing and the warmth of the people, but there has been a lot of political upheaval and life is very hard for many people, which is not good.  I am always interested in the place I choose for the next location and also inspired by it, otherwise I wouldn't want to write about it in the first place. But I am also interested in the grey areas, such as the reasons why people (characters) might want to leave a place. For example, in last year's novel Her Mother's Secret, the main character Colette felt stifled on the island of Belle-Ile-en-Mer, beautiful though it is, because it is so small and she was looking for adventure and opportunity. It's how landscape connects with people that interests me really.
How else do you get the sense of a place in your work? (the culture, language, habits etc)
By considering all the senses, researching thoroughly, going there and meeting the people who live there. Then I just write the story and hope all the sense of place comes through…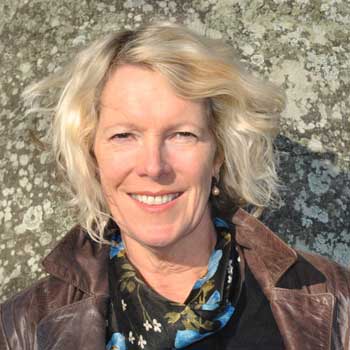 How did you research The Lemon Tree hotel and please tell me it's almost real?
As above. I'm sorry to say that the hotel doesn't exist but the setting certainly does. I decided where the hotel should be and then put it there in the book, using as my inspiration, an old convent nearby. I first visited the area of the cinque terre in 2001, then again in 2003 and 2009 and then visited again much more recently in order to do the research for Lemon Tree.
Would you ever set novels elsewhere?
I would consider any place that I found interesting as a possible setting for a future novel. But it does have to tick certain boxes for my readers too.
Have you ever travelled somewhere to see a literary setting ?
Sort of. When travelling, I'm always interested to find out who has lived there. For example, further down the west coast of Italy from Vernazza is the Bay of Poets where Byron and DH Lawrence lived, an area that I also love. Since DH Lawrence is one of my favourite writers, I was particularly interested in that!
With many many thanks for letting us stay in The Lemon Tree Hotel ! It's been a literary version of Four in a Bed – and I'll definitely come back!
Twitter:  @RosannaLey    Web: www.rosannaley.com