Love in the city of Barcelona – With Lilac Mills
Love in the City by the Sea is a light-hearted story about love, loss, will-power and a city so wonderful you'll never want to leave.
Hi Lilac! Thanks for showing us around this marvellous city!
The book is set in Barcelona, and I think this is one of the most fascinating cities in the world. It's got it all – surrounded by mountains, it has fabulous beaches, history dating back to before the Romans, amazing architecture, fantastic restaurants and cafes, and a truly cosmopolitan culture.
I visited Barcelona in my mid-teens and it astounded me then (though to be fair, I think it was the shopping that really caught my eye) and when my husband, who is a keen marathon runner, said he wanted to enter the Barcelona marathon, I did everything I could to make sure he did!
I didn't have any inkling I would write a novel set in Barcelona when I was there, or that it would involve a character running the marathon, but once I returned home I knew I simply had to write about the place. We were there for quite a few days, and I tried to fit in as much sightseeing as I could, because I assumed we'd probably never go back (wrong! I'm already planning a return trip), so I did actually visit all the locations in the book.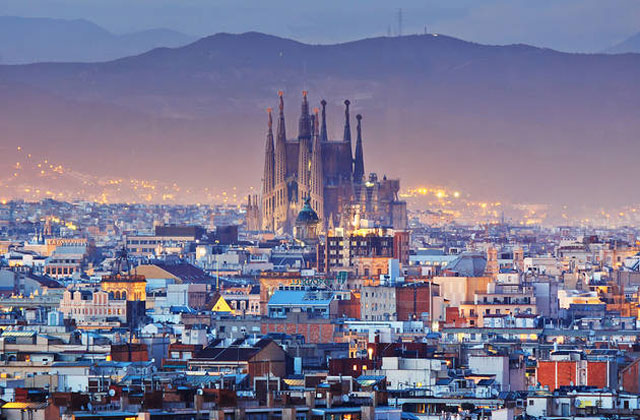 There are some must-see places – the Sagrada Familia, for one, and the Barcelona Cathedral for another, which are two magnificent places of worship and so vastly different in appearance and atmosphere. The Gothic Quarter is full of interesting shops, narrow streets, hidden restaurants, and the feel of the place is astoundingly historic. It is so easy to see that little must have changed over the years.
As for museums – Barcelona has them coming out of its ears! The Gaudi experience, where visitors can meet the man behind the craft; the Picasso museum, where the building it is housed in is worth a visit in its own right; the Museu Nacional d'Art de Catalunya, another magnificent building with the mountain of Montjuic behind and Barcelona's famous fountains in front. Talking of Montjuic, if you fancy getting off the beaten track for a peaceful hour or two, an unusual way of doing so is to hop on a cable car from the beachfront up to Montjuic. From there you can take the funicular railway and spend a few hours exploring the botanic gardens. If you feel lively enough, walk to the top and pay a visit to the fort. The views of the city are magnificent!
Then there is Gaudi's influence, which can be found all over the city, from the impressive Park Guell (more jaw-dropping views) to the otherworldly buildings on Passeig de Gràcia
Finally, don't forget the food. Barcelona is truly international in its variety of restaurants but why eat Thai or Mexican when there is all that lovely Spanish cuisine? If you don't try the tapas, then you haven't experienced the true Spain.
My one main tip for visiting Barcelona is to book as many of the places you want to visit in advance, so you don't have to queue. Oh, and if you can't afford to stay in one of the gorgeous city centre hotels, it doesn't matter if you have to stay a little way out – the metro is clean, frequent, and easy to find your way around. Oh, and take a swimming costume  – you might want to spend a few hours on the beach, even in winter if the weather is kind.
As for running the marathon myself – not a chance!! I've seen what my husband went through, the long training runs in the bitter cold and the rain, the injuries, the mental grit, and I don't think it's for me. I do, though, think he should continue running them because we get to see some very nice places indeed.
I love Barcelona and if I could live there I would. But as I can't, I did the next best thing and wrote a story about a girl who also wants to do exactly that!
Thanks Lilac for a wonderful return to Barcelona! You're right it's a stunning city.
Twitter:  @LilacMills    Web:  www.lilacmills.com/