Bookshop Tours of Britain by Louise Boland
Tour the Bookshops of Britain
This is a book all booklovers need. I do love a trail and a booktrail or two, of course, to see the places the author writes about and where the characters live, but imagine doing a tour of ALL THE BOOKSHOPS!
Louise Boland has put together a wonderful book full of hope and wonder in these troubled times and there are pictures and pictures of bookshops inside and out. Perfect for exploring now when the real life things are sadly shut.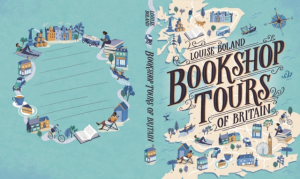 Here's the total list of the tours:
Travel around the country via Bookshops
Here's the full and wonderful list…….
SCOTLAND
Scotland Tour – Scottish Borders Tour
NORTHERN ENGLAND TOUR
N E England Tour – Peak District Tour – England's Industrial Heartland Tour I and II – Yorkshire Dales Tour – N W to E England Tour
South West England Coastal Tour  –  Bristol and Bath Tour  – Oxford and Cotswolds Tour –
WALES
South Wales Coastal Tour – Brecon Beacons, Malvern and Shropshire Hills country – North Wales Tour
SOUTHERN ENGLAND
South Downs Tour – Hardy's Wessex Tour – Suffolk and Norfolk Coastal Tour
London – 3 tours and a Bookshop Bagging (G London & England tour)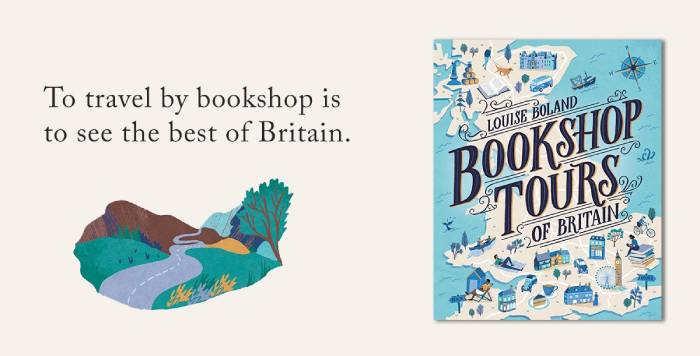 It's a wonderful book with delightful illustrations and photographs which are going to make you want to visit the bookshops you haven't yet. And revisit the ones you have. We all know of that allure that a bookshop has and this book captures that magic and more.
There's lot of literary snippets throughout too such as classic writers and information about settings. There's a lovely bit about Thomas Hardy's Wessex for example – a real allure for all fans of classic fiction.
So who is the wonderful word wizard behind this book?
Louise Boland is the CEO of Fairlight Books and she got the idea for this book while touring the  bookshops, which she has done over the three years since starting Fairlight.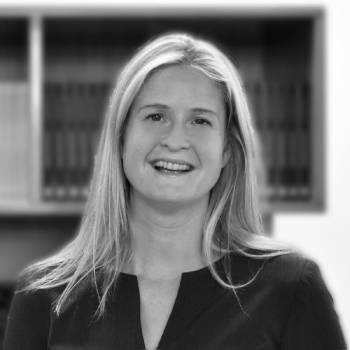 Just looking at this book reminded me of all the wonderful bookstores we have in the UK and why it's so sad they  are closed now. As Forum Books in Northumberland says 'There's nothing quite like a real bookshop" and they're right. This book shows you just why they are so magical and invaluable. Wouldn't it be lovely if people bought this book as a gift for either themselves or another bookworm and thereby helped the very bookshops themselves to survive during lockdown.
This book captures the magic and wonder of everything that books are. Travelling around the country and seeing what delights can be found is the perfect bookish dream!
Twitter: @FairlightBooksoks  Web: www.fairlightbooks.co.uk/