#LiteraryLocations – Michigan's Upper Peninsula – Karen Dionne
The Marsh King's Daughter is set in Seney, Marquette, Sault Ste Marie…It's a thriller surrounded in mist, dark fog and a very dark heart. Are you brave enough to venture into the woods? Are you brave enough to meet its author Karen Dionne? If so, read on…

Setting is King…
As I was shaping up the story of the daughter of a kidnapped girl and the man who took her, I almost gave my novel an urban setting, thinking of the abducted women in Cleveland, and intrigued by the idea that they were hidden for years in the middle of a neighborhood and a city. But at the last minute, I decided to set the story in a cabin on a ridge surrounded by marshland in Michigan's Upper Peninsula – a place I know very well, since I lived in the Upper Peninsula for thirty years.
Now that I've written the book, it's impossible to picture it taking place anywhere else, since the extreme isolation forced on my characters by the marsh setting is now an integral part of the book.
The  personal link to the places in the novel
During the 1970s, I homesteaded in Michigan's Upper Peninsula with my husband and six-week-old daughter. We lived in a tent while be built our cabin, carried water from a stream, and sampled wild foods. After I started writing, I always wanted to set a book in this wild and beautiful place, so you can imagine how excited I was when I realized The Marsh King's Daughter was that story!
Researching the  location?
In this instance, I already knew my setting intimately, including local place names, so there was very little research involved. I did use Google maps' satellite view to verify the layout of the area where Helena hunts her father down. I've perhaps painted the ridge where Helena's family grows up as a bit more isolated than it is in reality. I also included a brief, fictionalized mention of our cabin. Aside from this, everything about the location is as accurate as I could make it.
For some reason, wild and beautiful places just speak to my heart. The Upper Peninsula has 29% of the land area of the state of Michigan, and 3% of the population. I love that as I drive down the highway, the odds are greater that I will see deer, bald eagles, coyotes — even a bear — than I will see signs of habitation.
Problematic pasties…
Last fall, I went to the Upper Peninsula to research my next novel (another stand-alone psychological thriller set in the Upper Peninsula). It's amazing how little the Upper Peninsula has changed. One of the first things I did was order a pastie. When I'm talking to US readers, I have to explain what a pastie is, but since this Upper Peninsula dish was brought to the are by Cornish miners, I'm guessing I don't have to!
Novel on a postcard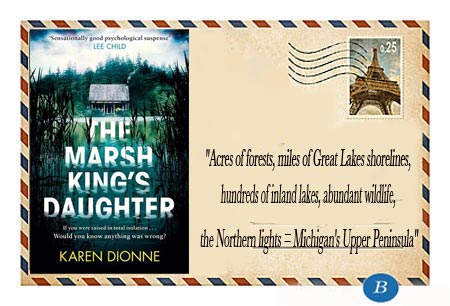 Twitter: @karendionne  Web: karendionne.net