Chatting Sugar and Snails with Anne Goodwin
Today I meet the lovely Anne Goodwin, but I am worried. Her novel is entitled Sugar and Snails and since I always try to theme what we eat and drink according to the book, this could be either the best or worst cuppa and a cake I've ever had. So feeling afraid for what she might bring along, I've preempted things by bringing pretty cupcakes and buns with cherries on them. Just sugar here dear, nothing else. Oh there's Anne now, Hi Anne! Lovely to meet you. What should we have to drink? Oh a glass of Egyptian karkady (hibiscus) tea, no sugar….. No sugar!Oh no….but just then Anne orders a chocolate brownie each so all is right with the world again. I sip a cup of rose petal tea and we start chatting.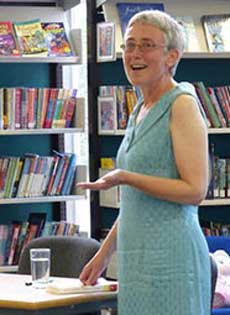 Diana Dodsworth has led a very troubled life. Why did you want to tackle such a character?
Having grown up in a monoculture, I've tried to be open to diversity as an adult. I haven't always found it easy, but it seems to me that the best way to achieve that openness is to imagine myself into someone else's skin. In my debut novel, I wanted to play around with ideas of similarity and difference by creating a character with whom, despite her unusual identity, many readers would find they had traits in common. I'm particularly interested in how, for so many ordinarily competent people, our sometimes quite significant vulnerabilities remain hidden from all but our closest associates, and sometimes even from them.
Unless we are extremely lucky, we all have parts of ourselves we'd rather others didn't know about; we all experience a gap between who we are and who we feel we ought to be. Whether, and if so how, we try to bridge that gap varies between individuals. How far would we go to become that ideal self or can we learn to accept ourselves as we are? What happens when we try to hide who we are for fear of rejection if our secrets are known? If we go down the path of radical transformation, will it bring the results we expected, or will we create new problems for ourselves?
In general, I think we are stronger when we can accept who we are, warts and all, but many of us find that hard to do. Diana's story resonates for me personally because, in the years I was writing it, I was going through a parallel journey of my own.
What kind of research did you do?
I'm rather lazy when it comes to research, so I did as little as I could get away with. I had to check a few facts regarding medical and legal issues and, much to my relief, a few people with a similar background to Diana's have told me they've found her story authentic.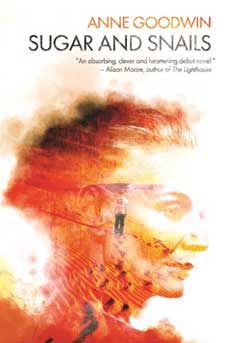 The most challenging aspect of my research was the fine detail of some scenes from Diana's childhood in the 60s and 70s, long before people were uploading their lives to instragram and YouTube. There's a short scene in which she remembers visiting Lourdes with her mother where I'm still waiting for someone to tell me I've gone wrong on the logistics of the immersion in the waters of the grotto.
The self-harm scene in the opening chapter was a lot easier to write than some readers have suspected. Although I've worked with people who self-harmed in my professional life as a clinical psychologist, I'd never had anyone describe it to me in such detail. To recreate Diana's experience, I sat with my laptop, my bare forearm and a Stanley knife, and imagined taking it a step further.
While I wouldn't want to get my facts wrong, as it's distracting to readers, what's more important to me as a writer is the authenticity of the emotional tone. I've connected with the emotion through music, my own therapy and lots of daydreaming on long walks.
Finally, there's Diana's own research into adolescent decision-making, in which I borrowed the experimental procedure from research into another topic and made up the results consistent with what I'd read about the adolescent mind.
You've included many social issues in your book. Do you think that anything has changed for the better?
I think the pressures on adolescents have increased since Diana's struggles in the 1970s, and self-harm, although no longer denied, seems to be on the rise. While access to specialist mental health services improved in the later years of the last century, the current austerity agenda heralds the loss of an important resource to help young people resolve the issues that lead to such behaviour.
Regarding the marginalised identity which is central to the novel, there's substantially more acceptance and understanding now. Sugar and Snails contrasts medical and societal responses in the 1970s and thirty years later, when the medical and legal framework was put in place to empower people to embrace their chosen identity. But even between 2004, when the contemporary strand of the novel is set, and 2008, when I began to write it, things improved for people in Diana's situation. And eight years later, although I obviously have a biased perspective as I'm tuned into the issues, there seems to have been an explosion of positive interest and information around. However, prejudice still exists against people who don't conform to the accepted norms, which is partly why my publisher wanted to donate a portion of the profits from my book to a relevant youth charity.
What made you decide to use Cairo as a setting?
I'm almost ashamed to say it was sheer pragmatics! I needed the family to visit a country that was not too far away but with a totally different culture to theirs. Morocco was one possibility, but I'd never been there and I had been to Egypt. Although I wouldn't want readers to assume I think Arabic capitals starting with the letter C are interchangeable, I switched to Cairo to make my writing task easier and hopefully my settings more authentic.
How familiar are you with the city and what can you tell us about your time or research there?
I attended university in Newcastle (as does Diana) and lived there for the next twenty years. I'd moved away by the time the novel is set, but still had friends there and went back frequently, and even held a second launch event at what used to be my local library in Jesmond. It's a wonderfully vibrant city and I still feel I'm coming home when I see the Angel of the North, across the Tyne on one of the road or rail bridges.
I spent a month in Egypt in the late 1980s (about fifteen years after Diana visited), with about a week in Cairo, so it's a short and distant acquaintance. But I did enjoy delving into my memories and the internet to write the scenes set there, even if many of them didn't make the final cut.
What is your link to and your favourite setting in the North East?
I'd have to do say Jesmond Dene, as I love the outdoors and those open spaces are so important for the health and well-being of those who live in cities. For all but two of the twenty years I lived in Newcastle, I was never more than ten minutes' walk away from either the Dene or one of the adjoining parks. It probably saved my sanity on more than one occasion
With many thanks to Anne for meeting up and sharing her story x
Booktrail Boarding Pass Information:
Twitter @Annecdotist Web: annethology 
Anne Goodwin's debut novel, Sugar and Snails, about a woman who has kept her past identity a secret for thirty years, was published in July 2015 by Inspired Quill and longlisted for the 2016 Polari First Book Prize. Her second novel, Underneath, about a man who keeps a woman captive in his cellar, is scheduled for publication in May 2017. Anne is also a book blogger and author of over 60 published short stories.