The Tumbling Girl set in LONDON – Bridget Walsh
The Tumbling Girl set in LONDON – Bridget Walsh
IF you are looking for a novel with sass and sexiness with murder and mayhem thrown in then THIS is your next read.  Completely fresh and fun with the most well-rounded, fascinating characters you ever did see.
Come into the world of The Tumbling Girl….
Boarding Pass Information : The Tumbling Girl
Destination : London
Author guide: Bridget Walsh
Genre: historical fiction
Food and drink to accompany: Popcorn and cider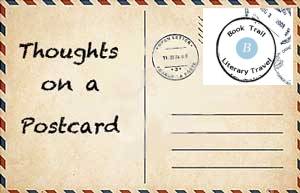 #Bookreview
A novel to transport you to London's fairgrounds and fairs
This was a joy from start to finish. Deep in the heart of London theatre land is one of my favourite settings in books and so this hit the spot from day one. Better than that – it was fresh and fun from the start so I didn't feel as if this was the London I had been in before. The detail, the world created on the page was fascinating and very, very vivid.
Minnie , our main character, is a hoot. Serious and a very good friend to Rose who goes missing and is later found murdered. She is the one to ensure that people look into why Rose was killed and the fact that this is no suicide. I loved her feistiness and determination to put men in their place who dared to tell her otherwise.  Her relationship with Albert who investigates this crime is a brilliant example of how two very different characters can not only come alive on the page, but bond and bounce off each other. One liners and attitudes are shot back and forth and it was a real treat to be in the middle of it all.
The mystery of Minnie is central to the story of course but it was the 'set-pieces' in the forms of chapters with titles, that really got me. Very cleverly paced and plotted, the chapters wrapped up or introduced a point or clue so I got the feeling that this was an act in several parts. Something which really added to the overall story. By the ending, I wanted an encore!
Glad this is the first in a series. Bridget Walsh is a name to watch. Gallic Books too.

Twitter:       Web: