The Great British BookTrail – The Edinburgh Bookshop
The Edinburgh Bookshop, Bruntsfield
A visit to the Edinburgh bookshop which took me to Bruntsfield, about a 30 minute walk from Princess Street. It's all up hill, along Lothian Road, past the Usher Hall and the Kings Theatre but totally worth it. If you walk across the meadows, this is James Oswald country and Ian Rankin country. The Usher Hall is featured in Oscar de Muriel's gothic novel, so this really was the literay hotspot of the crime fiction city!
This is the only kind of shop I ever queue for………
Just inside this was the sight that greeted me…
Such a friendly store! One of the two booksellers working came out and started chatting. She'd read so much and was keen to chat about cosy crime books as I mentioned I was looking for something of that kind. I ended up buying  a French thriller based on her recommendation – ha! These people have magical persuasive powers. I'm currently tucking into the book in question and it's really good so she knew me!
Spot The Lost Storyteller and The Marlow Murder club….
The walkway along the side of the store made me want to sashay my way down it in silks and a straw bonnet. Then climb that wonderful book ladder at the end…..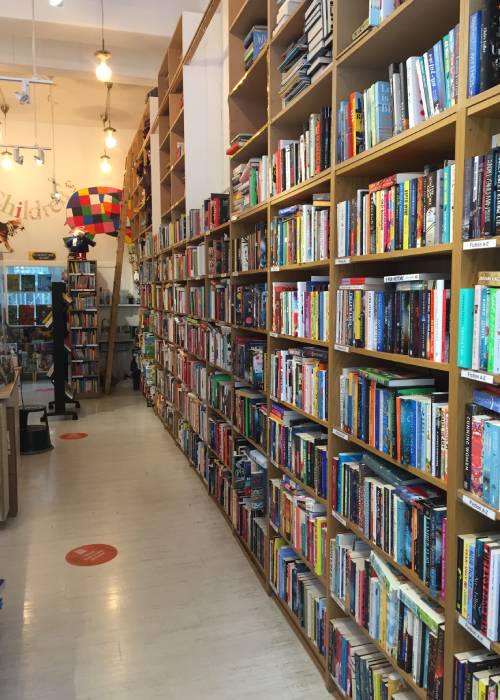 Met two friends who I sat with and chatted for a while. I was so tempted to swipe the booktrolley on the way out but Douglas had his eye on me..
I chatted to two girls who were also browsing and the book chat was good . Unfortunately one of them left a small bag or purse on the sofa and then they left. We didn't realise until too late so I do hope she got it back! Hugless says he's off to buy cakes and chocolate if she doesn't come back in three days. Gruffalo is having nothing to do with it. Who would have thought?
A bit of a drama in the Edinburgh Bookshop. Hugless, Gruffalo, a sliding book ladder and a book trolley that almost trundled out of the store after me.
Bruntsfield has books, bears and a bookshop you just have to visit.
Susan x