The Great British BookTrail – Golden Hare Books
Golden Hare Bookshop in Edinburgh
Edinburgh has a collection of bookshops to make anyone smile. A recent visit made my heart sing. So, it's time to showcase this wonderful city and all the bookish goodness it has to offer. I'm calling this The Great British BookTrail – visiting a few bookshops in a short space of time. Tasting cities via their bookshops.
Today, I want to take you inside Golden Hare Books – a lovely walk from Princess Street took me to Golden Hare in the suburb of Stockbridge. Stockbridge has that village feel, of times gone by. The streets are cobbled and the houses and shops all different colours. There's a church with a clock tower and a market was in full swing as I walked to the shop. Lovely as it all was, there was no time to lose. The Golden Hare was a'callin…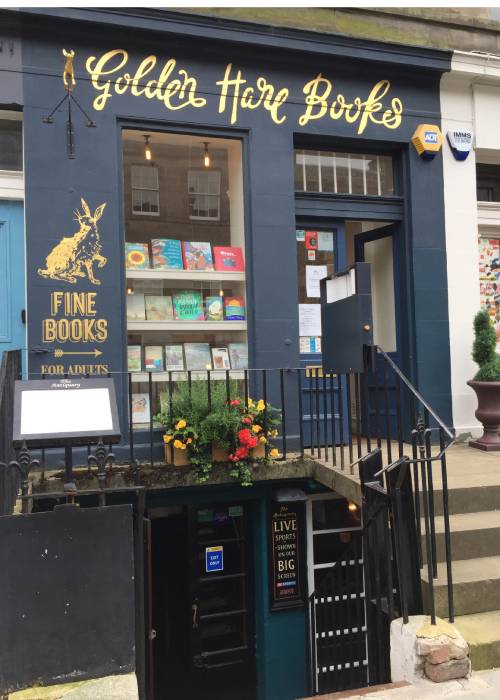 As I walked in, it was a scene out of Charlie and the Chocolate factory sequel when there are two lift doors and you  don't know which one to pick….
Reader, I picked the one on the left which led to………………………
A fireplace of fiction…..
The fireplace of fiction held some very special gifts…
I so wanted one of these notebooks but alas…..I kept my money for a book I could read instead.
To top thing off, the main front room has the most gorgeous stencilling, special lights, good shelves and lots of books facing outwards….
In addition, lots of little notes peppered the shelves with great recommendations and reading tips. Lights to make the covers shimmer..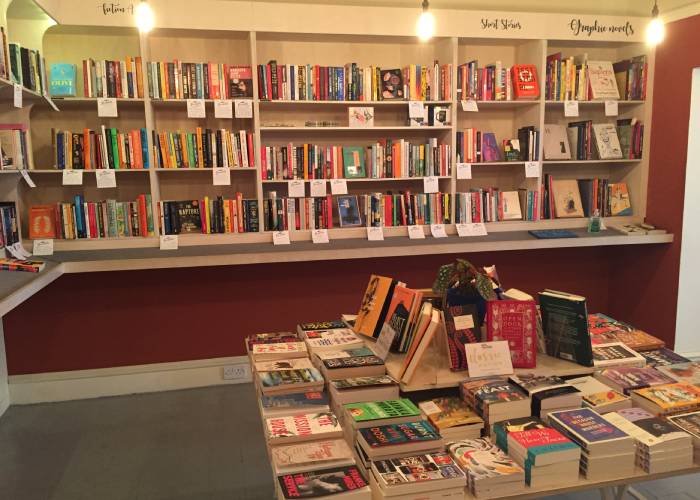 Reader, I left the hare behind with a new read, wrapped up in gorgeous paper with a giant sticker and a new tote bag. Oh and a bookmark!
Get yourself to the Golden Hare when next in Edinburgh. A stunning shop with a very chatty bookseller who gave me some great recommendations.
Thank you Golden Hare. Until the next time!
Susan