Package Deals – Taste the flavours of Africa and Asia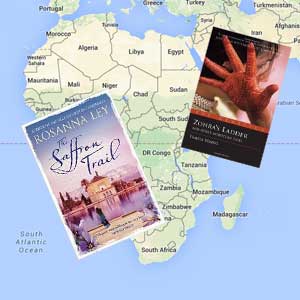 Travelling the world with books is interesting and fun and there's so much to see in even just one continent! Today we look at two..Africa and Asia…since there are so many favourites from this part of the world. Having said that, we are dying to go back via fiction so will be hunting out more and more!
A is for Africa and Asia are both very large continents but in order to have a quick visit of both in just four books, we've picked out four of our favorite titles to take you on a tour to some desert, gourmet and tea plantation settings so whatever you like to do and see on a literary holiday there is something for everyone. Be prepared however that you should bring your own food along with you for the Saffron Trail as this book makes you so hungry with its descriptions of food and spices that there is a risk of you chewing the pages if you're not careful.
AFRICA and ASIA extravaganza
AFRICA
Morocco – with Pamela Windo
Need a good travel guide to Morocco? Then look no further that Zohra's Ladder and other Moroccan Tales by Pamela Windo as she guides us around some of the more lesser known and hidden parts of the country. From the Souk to the Hammam, this is a real insider's tour…..
Pamela Windo, your guide explains…
"I went to Morocco with the idea I would hide away and write a book. What I found was a lifestyle and culture that brought echoes of my childhood in England—before the consumer cult took hold, and the simple things of life were still valued beyond money. In Morocco, I gradually let go of all my ideas and ambitions and listened to a different rhythm in which people live in the present moment, in close connection to other people, whether family or strangers. [STORIES: Rabiah's House; The Street Cleaner's Clothes]
Marrakech with Rosanna Ley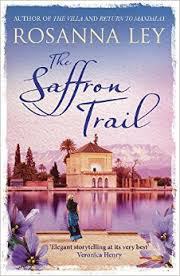 From Cornwall to exotic Morocco, this is a journey on so many levels as two young women become friends and find that Morocco will change their lives in many very unexpected ways.
Nell has just lost her mum, a mum who has been hiding things from her and which she now wants to find out. She grew up on a  saffron farm in Cornwall and is recently married but her mother's death haunts her so her husband offers her a trip to Morocco and a cookery course which she uses to explore her past
Amy on the other hand is a photographer who goes to Morocco to capture the sights sounds and smells of an exotic land. Amy is also searching for the truth – this time about a postcard she found on her Aunt Lillian's mantlepiece from her missing son Glen.
Morocco reveals many secrets thought buried in the sands…
ASIA
Sri Lanka with Dinah Jefferies
19 year old Gwendolyn Hooper is newly married and soon follows her husband to his tea plantation in Ceylon (now Sri Lanka)
However life there in this hot and humid country is not at all what she expected and her husband seems like a completely different man. Their neighbours are hardly the kind of people she would hope to know and the plantation workers are resentful of their rich bosses and their working conditions. There is tension in the air as well as the sound of birds and the whistling of the wind.
Gwen finds herself alone and so soon starts to explore. What she finds are clues to the past – her husbands past and just what is that overgrown gravestone in the grounds?
Some secrets she is about to find out, don't stay buried for long.
The Phillippines with Lucy Clarke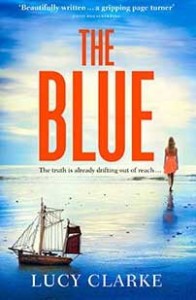 Ever wanted to go sailing with with a group around the Philippines? But how well do you know the others in the crew?
Paradise can suddenly turn very dark indeed.
Now – Lana is in New Zealand when she hears some shocking news – The Blue, the fantastic yacht which she and her friend Kitty joined for the adventure of their lives, has sunk. All crew, Lana's friends are still missing. What on earth happened and why did Lana leave the yacht a few months ago?
Then – Lana and Kitty join a group of travellers in the Philippines and become part of the elusive crew living and sailing on The Blue. The ocean and islands are their playground, where they stop, fish, live and swim  – a perfect existence and escape from the world.
Nights are spent drinking on deck, navigating the island and having fun. But things soon turn dark and paradise turns sour. The Blue becomes one floating nightmare. Lana becomes desperate to leave.
Booktrail Traveller tips – Take food with you on the Saffron Trail, enjoy tea with the Tea Planters Wife, wander the Souks of Morocco with Pamela Windo and eat grilled fish on the yacht called The Blue but be careful who you go sailing with!