Novel set in Hawaii – Sharks in the Time of Saviours Kawai Strong Washburn
Hawaii, sharks and saviours
Novel set in Hawaii – Sharks in the Time of Saviours Kawai Strong Washburn  – What a magical novel. A novel of magical realism on one hand and one filled with stunning settings and lyrical language.
A simple story at first sight. A boy is saved from drowning by sharks and his family see this as a sign of good things to come. However, his siblings feel that they are now not as loved or as cherished as their brother and resentment starts to grow. The sons leave Hawaii and travel to the USA to make something of themselves and it's there that the story takes on another turn and twist.
Setting: The island of Hawaii and the sealife there.

#Bookreview
 BookTrail Travel to the locations in Sharks in the Time of Saviours
It's actually hard to fully describe this novel as it's more like a dream sequences in many ways. It's magical and mystical but look closely and there's some serious topics too. The failed American dream, the poverty caused by economic downturn,and the struggles within a family.
The magical parts of the novel were strong and captured the spirit and essence of life in Hawai'i for me. This side of the novel explored the setting well, with the sea, the sharks, the beaches and that bright sunshine really shining from the page and immersing me into the story.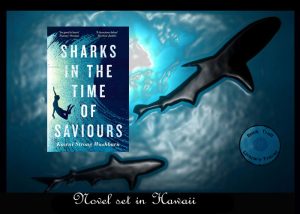 Where there is sun, there is also shade, and this part of the novel was equally as strong, if not more so. The sons who dream of better things, move to mainland USA. Even though they travel away, their hearts remain attached to Hawai'i and the myths, the magical realism of the place they've physically left behind. I was urging them on and willing them to stay safe at the same time.
The characters were strong and each of them had a story to tell, which when joined together, formed an amazing tapestry of Hawai'i myth and legend. Malia in particular taught me a lot about the history and ancestry of the island and her family. I'm not going to say anymore except to read it for yourself!
The islands, the spirit of the place is a major character here. The characters themselves showcased life here, the words evoking all the senses of such a magical, tropical place.

Twitter:  @incrediblekdub  Web: About — Kawai Strong Washburn