Mystery of the Moonflower Murders by Anthony Horowitz
Moonflower Murders and golden age crime
If you want to read a book that harks back to the Golden Age of crime fiction, has a modern day 'detective' that uses a mystery novel to sort out her case, a story in a story that reveals secrets about crimes past and in the future…..well, welcome to the wonderfully complex and fascinating world of Horowitz…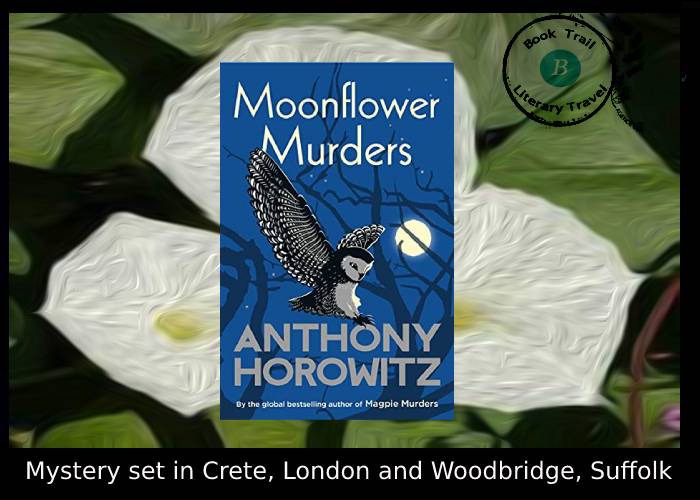 This is  a sequel to Magpie Murders but you can read this as a standalone….and I recommend that you do. This is one fine series….

#Bookreview
This novel transports you Crete, London and a story within a story
Where this novel takes you…
Starting on the island of Crete, we head to London and then to the setting of a crime novel set in the 1940s
Postcard review
This was a joy to become immersed in. So much more than a straight forward murder mystery as it's so vividly and brilliantly drawn so that it plays as a classic Christie-esque novel as you read.
I took a week to read this. I do this with certain books as I like to immerse myself in them like a good bath. This is a tangled web of relationships, lies , family dramas and a whole lot of murder and suspicion. It's complex so it takes your concentration but by god is it worth it.
In a nutshell – a publisher lives in Greece when she is approached by a couple who tell her a bizarre story. Their daughter was married in a hotel where, on the same day, there is a murder. Their daughter Cecily is now missing and the whole thing makes Susan very curious indeed.
What's even more intriguing is that Cecily had phoned her parents the day before she went missing, saying that the wrong man had been arrested for the crime. She'd read a book by Alan Conway and this title – Atticus Pund Takes the Case, – based on that hotel murder actually reveals who the killer is. She heads to London and to the hotel to find out the truth.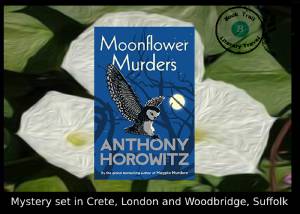 Meanwhile, that book within a book about Atticus Pund is featured in this very novel. You read half way through and then that book opens up and you are taken from one world and novel into another before emerging at the end with the answers and clues from both. Very very clever. A brainteaser of a novel. How on earth the author kept all the threads together….it's a brilliant novel that Agatha Christie herself would be proud of I'm sure.
Looking back, there's clues and snippets of clue and red herrings through out. Then there's the asides, the whispers and the someone at the door moments. Symbols and nods to detective golden oldie moments. A pure delight of a literary puzzle from start to finish.
I don't want to say more as you have to read this with little or no knowledge of what is to come. I would just say read it for the pure pleasure of having a novel within a novel, a murder in a hotel and a cast of characters that are so dysfunctional, it's as if EastEnders and Downton Abbey had joined forces.
Anthony Horowitz that was just one of the most intense yet enjoyable literary experiences I have had for some time. Thank you.

Twitter:  @AnthonyHorowitz Web: www.anthonyhorowitz.com/