Novel set in Antarctica – Madhouse at the End of the Earth
Inspired by true story of The Belgica adventure ship.
Novel set in Antarctica – Madhouse at the End of the Earth – We all know the story of The Titanic and other famous ships but I hadn't heard of the one in this novel. A real life adventure ship which sailed to the coldest place on earth….
It took me all the way to Antarctica where I was soon involved in a real life expedition and tense battle of wills…..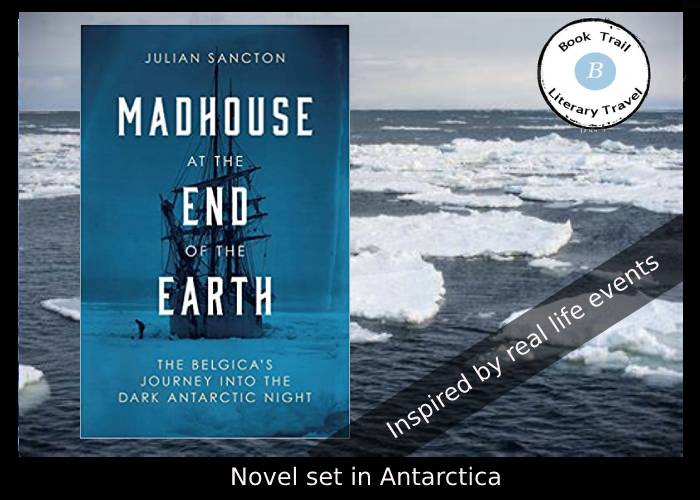 Setting: onboard a real life adventure ship in the Antarctica

#Bookreview
Get onboard for an adventure in the Antarctica
I'm always happy to read something about a real life event. Fact mixed with fiction – yes please! Even before we got to the Antarctic, I was deeply involved in the story. The ship, and novel, take their time getting to their destination but then this is the story of the journey as much as anything else.
The Belgica the ship that went on one fo the first arctic expeditions – one that turned into a true "madhouse with the men onboard turning against themselves. Tensions so fraught that you are never sure where this will end despite knowing that history has already given us the answers. Now that is a gripping read!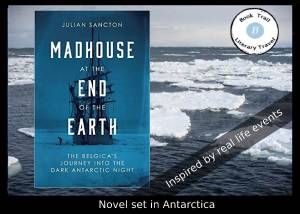 The story is one of high emotions throughout. The groaning ice takes no prisoners and we are soon in waters where there is no escape from the elements. The men suffer from isolation, whilst the darkness outside slowly smothers them. In addition, they have to endure snow blindness and storms. What happens to a man when they endure such an ordeal and how do they then face the outside world again?
The characters are of course all real life adventurers: Frederick Cook, an American doctor–part scientist, part adventurer, part P.T. Barnum. Adrien de Gerlache  was a Belgian seaman who had less experience than the other two, but tons more pride and stubbornness. Perhaps the most famous is Roald Amundsen, a young Norwegian and famous explorer. What these men went through, how the landscape almost drove them mad is a fascinating account of how isolation and fear, cold and hunger, despair and darkness can send a man into madness.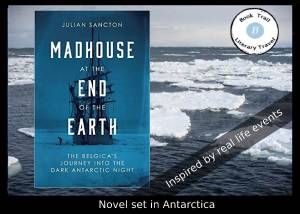 A fascinating read since you realise you are taking part in history in many ways. A very well researched and authentic novel that you should read anywhere apart from on a ship, or near ice. It's just too real for that.

Twitter:   @jsancton   Web: https://sites.prh.com/juliansancton