In the Palace of Flowers set in Iran – Victoria Princewill
BookTrail it to the royal court of Persia
This novel vividly recreates the court of the Iranian Shah in the 1890s. We follow Jamīla, an Abyssinian slave and Abimelech, a fellow slave and a eunuch navigating the dangerous and deadly politics of the royal court.
A stunningly colourful cover reveals the jewelled inside of the novel and its setting….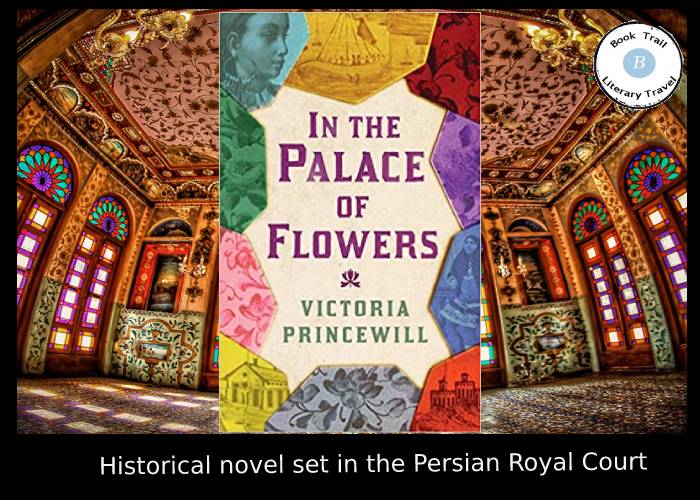 Setting: the Persian royal court

#Bookreview
Transports the reader to the dangerous yet fascinating Persian Royal Court
Victoria Princewill has done some very clever research here. She weaves this into the novel, her story with such a light touch though, you don't realise the exquisite detail and history you're learning at the same time. Victoria's surname is particularly apt given that this novel is set in a royal setting, the Persian court. I imagine she was one of the characters! Very vividly brought to life. This is a rich tapestry indeed!
I actually found the novel similar to a Shakespeare play with its tragedies and shadowy figures just off stage.  The story, just like the cover, is a jewel in the literary landscape. What lies behind the bejewelled facade though? Shadows and darkness, pain and intrigue. If you thought the court of Henry VIII was cruel, then this is something else. There are power struggles, painful realisations, emotional discoveries and a level of oppression that will have your crying.
Jamīla and Abimelech are two Abyssinian slaves navigating the complexities of the Shah's royal court. That is the main story and from this, the author has woven a complex tale that takes you from one emotion to another. It's visually stunning and I was fascinated to be in Iran at this time as I really feel I have been there at a very key moment in history.
I don't want to spoil it, so there's nothing more I want to say. Please read this. It's special and unique and a very interesting time and place for an author to bring back to life, explore and  evoke with panache for a lucky readership. Maybe one day a film audience!

Twitter:   @vpofrancesWeb: victoriaprincewill.com