Ghostly novel set in Scottish Highlands – Pine by Francine Toon
Ghostly vibes in remote Scotland Pine by Francine Toon
Ghostly novel set in Scottish Highlands – Pine by Francine Toon When a novel comes in to BookTrail Towers with such a striking cover, it stands out. Sometimes it goes to the top of the TBR as it sets such a mood. This was that novel for me. So, what's it all about? Lauren and her father Niall live alone in the Highlands, in a small village surrounded by pine forest. They see a woman one night and help her. The next day…she's gone and no one else can remember seeing her. Jeepers, that was enough for me to start reading this.
I was in that forest before you could say…well…pine…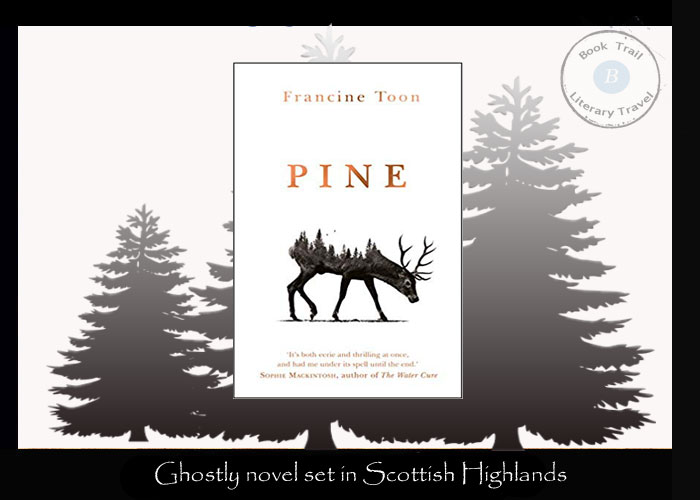 #Bookreview
This creeped me out and then some! All good but boy am I going to avoid any woods for a while. Francine Toon I applaud your sense of setting and creating such a wickedly gothic and downright chilling literary landscape!
The novel opens and it's Halloween night. Lauren and her father have been out "guising", and are on their way home when they come across a strange woman dressed in white standing in the middle of the road. She seems confused. Injured? So, they take her home with them, but the next day, she's gone and what's weirder still is that her father can't even remember seeing the woman at all.
Oh and that's just the start. It gets more unsettling, creepy and claustrophobic. The supernatural and spiritual overtones are goose-bump inducing. The story harks back to when Lauren's mother went missing, her father is suspected due to his angry nature and alcohol issues and she is deemed to be a witch.. Turns out her mother was in to tarot reading and crystals…
Francine Toon was raised in the Highlands and it shows for the atmosphere in the novel is gothic, creepy and down right scary. It's not just the forest she describes but the essence of it – the trees and their shadows, the noises, the air, and oh those noises again.
The novel's title refers both to Christine's name for her daughter (Oren, the Gaelic word for "pine") and to the forest which smothers the village.in its grasp.
The setting is one of a Grimm's fairy tale. There is a sense of witchery, other worldly beings and a deep, increasing sense of unease. BookTrail it in real life if you dare!

BookTrail Boarding Pass: Pine
Twitter:  @FrancineElena   Web: www.francinetoon.com/