Dan Boothby – Booktrailer extraordinaire!
Author of Island of Dreams Dan Boothby popped into Booktrail towers today as I wanted to know what led him to do the ultimate booktrail – to go to the island where Gavin Maxwell once lived. Gavin Maxwell wrote  A Ring of Bright Water– a captivating story about his relationship with three otters and the enchanting landscape of the Scottish highlands.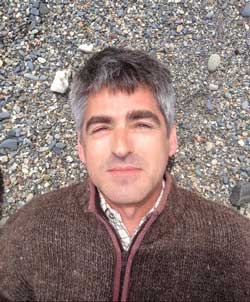 Following in his inspiring footsteps, Dan Boothby spent time on Maxwell's island of Eilean Ban and wanted to write about his experiences.
The result-
Booktrail to the Island of Dreams but how did he get there?
Getting Into Print Ain't Easy.
I left the island in November 2007. And drifted. I went sailing a lot – working as delivery crew on yachts all over the world; eking out savings by wintering in India, Malaysia, Thailand; working now and again at Tŷ Newydd – a writers' retreat in North Wales: cooking, cleaning, a lot of washing up – pandering to poets and students of various genres of writing.
And writing sometimes about the island and what the experience had meant to me. And, through the writing, figuring out – in an unconscious, subconscious way – what it was about Gavin Maxwell and the Highlands that had so obsessed me from boyhood.
I wrote other stuff, tried to write a 'comic' novel set in Morocco and, because I couldn't get the island book to work (early drafts were too 'lyrical', with far too much nature writing and not enough bridging passages), I put it away from me and turned my back on wanting to be 'a writer', hated writers (those liars!) and writing in general.
Then, in December 2011, in Malacca in Malaysia, bored and looking through my laptop for something to do, something to work on, something to write, I looked again at Island of Dreams and thought, It's almost there. . .
For some reason I decided to decamp to Krabi in Thailand, where I checked into the cheapest room in a hotel in the centre of town (it was one of two rooms at the top of the building. I think the other (these were more like cells really) was used for, ahem, short-time occupancy, judging by the noises coming through the wall.) I wasn't interested in my surroundings, in the comings and goings of the Thais and the tourists and expats and the strange, symbiotic, cynical relationship the Thais and the tourists have, and so could get into a daily routine.
I wrote and rewrote and edited. I returned to the UK in February 2012, did a final line-by-line edit and then started sending '3 chapters and a covering letter' to agents and publishers. I figured it would be a numbers game. I got an agent that October. The day after he agreed to take me on, I got another two rejection letters from agents. It makes you laugh in the end.
The agent had my book for two years and couldn't interest a publisher in it. So, frustrated, I said goodbye to the agent in October 2014 and send out another nine submissions to publishers. I hooked one. Or to be precise – I hooked five, within the space of three weeks.
Odd. And wonderful.
If you want to make it as a writer, get a thick skin and understand well – none of this is personal. It's about timing and luck as much as quality of writing. And connecting with the right editor for your work.
Thanks to Dan for his words of wisdom.
Booktrail Boarding Pass information: 
Twitter – @danrboothby