The BookTrail Guide to Edinburgh Christmas market
The Booktrail visited Edinburgh market over the Christmas period as since the article about How would  your favourite literary characters spend Christmas appeared on Visit Britain – we began to wonder just what kind of tips we could give you to enhance your experience of a Christmas market. Edinburgh selected, we were off…
Edinburgh is a city of many literary delights at the best of times but it's amazing just what literary finds you can spot in the most unusual places….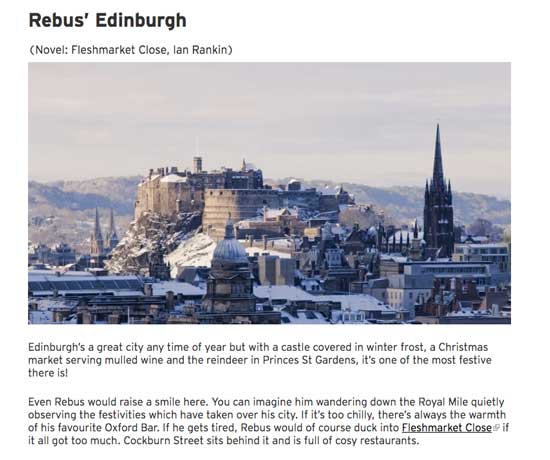 A good view of the market from the Scottish National Art Gallery. Oh and a good reading vantage point too as there are many places to sit and ponder the market where Rebus from the Ian Rankin novels may well be wandering in and moaning about down below.
The first stop on any book -market – trail has to be a German one.  Paying homage to all those novels set in the lovely country that is Germany. Why not munch on a bratwurst at the same time, whilst balancing your  book on your knees. Gluhwein, sausage and book set in Germany –  Perfekt.
You can pay a few pound extra for your drink and get to keep one of the lovely mugs made specially for the market. When you get home, you can get topped up with some more warm fayre when reading your Christmas novels.
This is what could happen if you read too many novels set in France, the booktrailer here said he was off to buy some raclette to read with a novel set in France. To get the flavour of the country and its people. But this is a sign of when you become part of the novels you read…
Pity this photo is not scratch and sniff as the smell of the raclette cheese was just out of this world. But the aroma of something Spanish was calling…
Oh there were churros to eat and sangria to drink and lots of visitors from Spain too! Got chatting to some lovely people from Bilbao and a family from Vizcaya. They said they loved Edinburgh for its gothic charm, its dark alleys lit by what appeared to be gas lamps and the charm of the market. They'd just been to the Edinburgh dungeon and were going on a ghost tour later than day. I directed them to Mary King's Close. This is a place where guides take you on a tour of unseen alleys of the capital where people once lived. And there are books on the subject to buy from the shop at the end. Of course.  Also directed them to the Edinburgh Bookshop  – well they said they wanted somewhere cosy to visit!
One more food stop then…..the potato on a stick that you can eat whilst you read. It's like  a potato book mark…..
Oh and you might find that Leonardo diCaprio has a seasonal job….(zoom in)
This is not the only famous face from a film or book spotted during the market trail…. Having searched for Fantastic Beasts in New York and Liverpool recently, where to find more of them? Edinburgh Royal Mile is the answer. Having not long read this, and including it in our Visit Britain article – who should be in Edinburgh but Hedwig and Hagrid themselves.Nice to see the two of them working in the city where the book was written and where the author still lives. This is literary perfection when you think about it.
Now every literary traveller and booktrailer needs a gift to capture the magic of bookreading.  A few leather journals and  wooden  decorations which could also double as bookmarks were purchased. But the best thing ever was a candle holder which more than captured the magic of the Alexander McCallSmith novels. A perfect companion to reading during these cold and dark winter nights
Edinburgh market is a great place for book lovers and an ever greater place to indulge your wanderlust literarily and otherwise. You can visit many countries via their food in only a few steps. Plenty of places to snuggle up with a book and a cup of mulled wine, log fires in wooden cabins….
Edinburgh Christmas market is still on – up until January 7th – Take books with you – stay in a cosy hotel with log fire and visit the market for festive goodness from all over the world to match the novel you're reading!
Enjoy and happy Christmas reading!