BookTrail Ambassadors – Elizabeth from Alaska
Hello! I'm Elizabeth, an Alaskan based librarian, archivist, and literary travel blogger at A Suitcase Full of Books.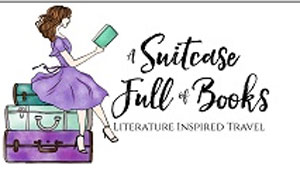 While I do spend half my time maintaining the librarian stereotype by holing up after work with a good book and a large mug of tea, sometimes armchair travel just doesn't suffice. Then I pull out my suitcase, shove my books in, and set out to explore the destinations which inspired authors to put pen to paper.
Growing up, I read through series after series of mystery books, but my all time favorite was Enid Blyton's The Famous Five. I identified with curly-headed, tomboyish George (full name Georgina) and I wanted nothing more than to climb around the ruins of her castle and spend the summer holidays exploring the British countryside as she did with her cousins. -And of course I longed for a loyal dog companion like hers as well! Although I still lack the dog, part of my childhood dream came true with a visit to the ruins of Britain's Corfe Castle.
For Blyton, a visit to this castle, plus a little imagination, inspired the setting of George's Kirrin Castle. Among the ruins where Blyton once sat and watched the birds and rabbits play in the rock crevices, my own inspiration and imagination led to the creation of the blog.
I had so much fun visiting Corfe Castle and then returning to London where I spent a week visiting statue forms of some of my favorite literary characters and museums dedicated to other classic literary novelists that I decided all future trips should include literary destinations! Most recently, I followed Anne of Green Gables to Prince Edward Island, Canada in search of "Kindred Spirits" (which I found in abundance!). After too short a week on the Canadian island I proceeded down the North American coast to Chincoteague Island, Virginia to experience the annual Pony Penning week made famous by Misty of Chincoteague.
Although most of the destinations on the blog so far relate to my favorite children and young adult books, I swear I've actually matured, or at least my genre reading preferences have shifted. The day Sharon Kay Penman's first medieval mystery book fell into my hands I was sold on Historical Fiction and spent the next several years reading through all of her books, and then starting over. I hope someday to participate in one of her group tours to France through Academic Travel Abroad to visit locations she uses when writing about the Plantagenet dynasty of England!
Until then, however, I've found that my blog has prompted me to start reading in genres and about places that I hadn't even realized I was so unfamiliar with the literature. Surprisingly, this included books set in my own state of Alaska! I wasn't even sure if there were any books set in my own city! I had of course read Jon Krakauer's, now famous, Into the Wild, and Gary Paulsen's young adult novels about a boy stranded in the wilderness, but that was it and neither author even lives in Alaska! Also, although it might make for a few good blog posts, I'm unwilling to get lost and/or stranded in the Alaskan wilderness in order to fully experience the premise of those books.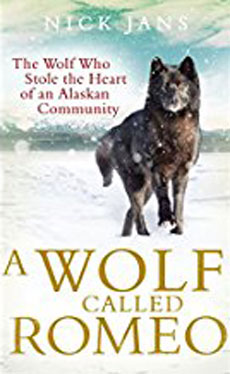 Starting close to home with Southeast Alaska, so far I have found a few good memoirs, a fictional detective novel I wasn't so thrilled with, and have a surprising number of others now on my to-read list!
So far my favorite, A Wolf Called Romeo by Nick Jans, is a well-researched memoir about a large black wolf that appeared in my own city of Juneau one winter and returned for the next six winters. I remember this episode in our town history well, so I may be a bit biased in my choice. In close second, is a book by an author from the nearby town of Haines. Find the Good: Unexpected Life Lessons from a small-Town Obituary Writer by Heather Lende is totally relatable to anybody living in a small, close-knit, community.
While the ports of Southeast Alaskan cities fill with cruise ship passengers each summer, I believe those tourists only gain a superficial understanding of the place compared to readers who have gotten under the skin of a place through the pages of a local author.
This is why I'm excited to contribute to The Booktrail. Not only will I get to share some incredible reads set in my own state and the rest of the USA, but I'll be learning more about these places at the same time!