Books to look forward to in 2017 – BookTrail Staycations
Looking forward to your next read is always exciting but after 2016 (the real world not the literary one) the landscape does look a bit bleak. Happily though, it's not the case with the literary one. 2016 was a stellar year and 2017 looks set to be a humdinger for literary travel of all kinds…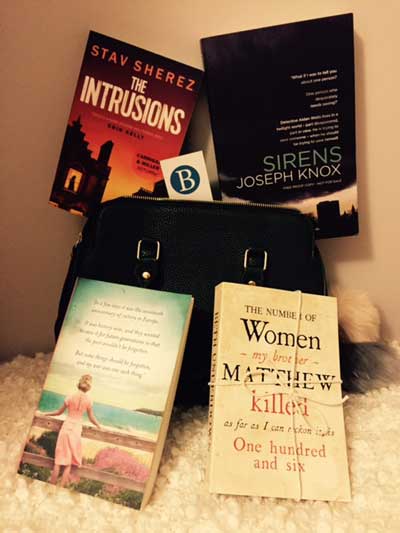 Want to book a good getaway sometime soon? The #LiteraryTravelAgency has some good deals…Today some staycations and if you want to go further afield, there's some good deals to be had tomorrow!
Staycations (or afraid to go out- ations)- Literary style
London – Bayswater
The Intrusions Stav Sherez
This will be fully advertised in the Literary Travel Agency window in February but you won't want to miss this. Travellers should be aware however that this is the dark side of London –
A nice hostel in Bayswater is normally a nice inexpensive way to meet people, fellow travellers like yourself. There's even the possibility of keeping in touch with your friends and family by sending the odd email – computer available in the hostel. Only just as you can send a message wherever you are, so too can other people. Other people watching you perhaps….If you like the night life, Bayswater is good for clubs and pubs. But there are more than a few shadows. And be careful someone doesn't put something in your drink….
Verdict of a booktrailer :"Not so much a holiday to remember as a book you'll never forget. Bayswater is a nice area in real life but not here it's not. From start to finish I was right in the action and the confusion of the characters. Like the wine of a similar name – Sheraz is a dark, rich, blood coloured experience.
The WitchFinders Daughter – Beth Underdown
Another literary holiday for the spring. March infact. But you'll want to watch out for this one as it will be gone in the click of a witch's finger. This is a real package holiday as you will join a coach load of fellow countrymen on the prowl for a good scandal. And this is not all fiction – in fact it's largely based on fact. So despite going back to the 1600s and having to wear old clothes and be careful what you say else be deemed a witch and hung or drowned, this book takes you into the heart of Medieval England. Female booktrailers are advised to tread carefully and be accompanied by a man who is not a witchhunter. Lavender and garlic should be close to hand when reading this for maximum protection.
Verdict of a booktrailer: "Loved this visit to Essex and Manningtree. Couldn't quite believe the visit was real and fictional. Never a dull moment and the storyline was gripping as it was so shocking. How one person, one lie can ripple and cause so much damage. Compelling and utterly memorable."
Manchester
Sirens – Joseph Knox
Joseph Knox is your guide to this side of Manchester and he is more than partial to a club or pub or two. The ones he takes you to in this book might not be those you'd want to frequent for real, and you might want to take a torch with you for some scenes as there's some dark things going on here….Amongst the people you are likely to see on this tour are a dirty politician, a crime lord and a disgraced detective.
Verdict of a booktrailer: "Never seen Manchester like this before! Some great characters in this city and the underbelly is a lot flabbier than I would have thought. Gripping storyline and crisp, taunt writing like a wire strung across a door that almost takes your head off. These Sirens are loud and clear! Warning you to read this book"
Cornwall
The  Returning Tide – Liz Fenwick
Put on your flip flops and let's head to the beach. This is the Cornwall Liz Fenwick is so famous for. This story takes you back to 1943 and the story of Adele and Amelia. This is a story of WW2 and a devastating secret which grips and makes you cry.  A multilayered journey which takes you to Cape Cod Massachusetts too. There's a lot to get your teeth stuck into here and the writing is lyrical so  it will be a journey you will never forget.
Verdict of a booktrailer:" Can't wait to write the full review of my journey up on the Booktrail as this was just lovely, yet poignant and heartbreaking at the same time. You know you're in good hands with Liz Fenwick – what a journey she takes you on"
Come back to the Literary Travel Agency tomorrow. Some top travel tips for 2017 – time to BOOK is now! Maps will be provided for these journeys nearer the time.