Back into bookshops – a journey to a world of reading
What does it feel like to go back inside a bookshop?
Back into bookshops – a journey to a world of reading….   It's been a funny old few months. Bookshops were open, then they had to close. Some did pick up and online ordering, others delivered by bicycle…There really has been the magical sense that booksellers up and down the country are determined to keep spreading the spirit of bookselling joy.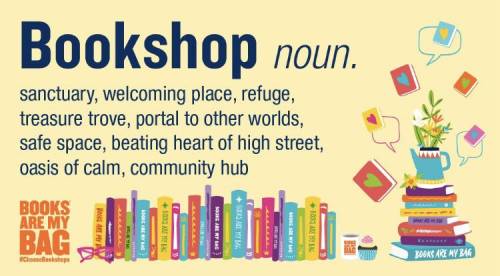 But there's nothing like going inside  a real bookshop again is there? Now that restrictions are easing and you can go inside a bookstore again, it feels like a forbidden pleasure. I'm Victoria and I'm a fledgling book blogger from the North East of England. I wrote to The BookTrail and asked them about putting something on their site about bookshops and the way they make you feel. 'Well, that sounds like something you should write!" they said. So, here I am. Bear with me, I am still trembling after going into a bookshop again today for the first time in ages.  I thought about the emotional moment it was. Hope that doesn't sound stupid or silly, it was a big deal for me and like seeing an old friend again. I wanted to hug each and every book.
So, why do bookshops offer such magical experiences?
They are spaces full of imagination
You are amongst friends here
The smell of books!
Running your finger along the spines is akin to giving that book a hug
Buying a physical book in person and then taking it to the counter, getting a bag, carrying it home. There's no feeling like it.
The background noise in bookshops is magical. It's like the books are chatting!
Listening to other shoppers discussing books and mentally deciding to buy them as well
The world of possibilities in front of you!
I swear going into a bookstore, is like going inside a church with stunning stained glass windows as the books are like jewels to me! Works of art!
When you get to take that book home…
Introducing that book to its new home. Opening the pages for the first time and settling down with a coffee.
The anticipation of getting on your literary airplane and travelling to wherever that book is set. This has been my happy place and even more due during lockdown. I live on The BookTrail but being with one book, selected after hours of deliberation, then settling down for the travelling experience after so long just seems magical.
Deciding on the snacks and drinks to go with your new read. I have just bought a book set in Spain so it's something Spanish for me.
The wonders of a new bookshop
Here in the North East of England, we are lucky enough to have indie bookstores. One, Forum Books is in Northumberland. GREAT NEWS THOUGH! They have just opened up another store called The Bound in Whitley Bay at the coast. I haven't been lucky enough to go yet but when I do, you can bet I'm going to need a lie down afterwards. A new book shopping experience AND a new bookshop!??
Ann Cleeves, author of the famous Vera and Shetland novels (plus her new series set in Devon!) was a pioneer in getting the shop to open near to where she lived. She opened the shop officially which was just lovely. A top author opening up a local bookshop seems like everything is right with the world again. There's another book haven to enjoy and it's Vera approved.
Stay safe and enjoy your next or first visit back into a bookshop. Thanks for having me!
Victoria