Top Ten Fiction from Afar's BookTrails 2023
Top Ten – 2023's Translated Crime Fiction
Fiction from Afar's Translated Crime Fiction BookTrails 2023 – My 2023 book trail will  – see me travel across several continents from the comfort of my armchair as I look to read the best of translated fiction with a criminal edge.
There are many exciting forthcoming novels due to be published. They include a new Millennium novel, the first by Karin Smirnoff, a cowrite between Ragnar Jónasson and the prime minister of Iceland, the second volume of Lady Joker by Kaoru Takamura, a new crime fiction novel by Pierre Lemaitre and a new Harry Hole story by Jo Nesbø ….
In addition to these I have chosen to examine ten so far unheralded forthcoming crime fiction releases by translated authors.
Some, if not all of these books I firmly believe you will hear much more about in the coming months!
Part one today and part two very soon!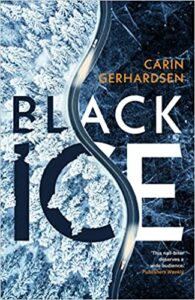 A chillingly atmospheric narrative from Sweden
What better way to begin January than with some Nordic Noir by an esteemed storyteller.  Carin Gerardson first came to prominence with The Gingerbread House ten years ago with the first of three novels in the Hammarby series.
Her standalone novel Black Ice was published in the USA by Penzler Publishers in 2021. This remarkable story is now finally going to become available to readers in the UK from early January. This is a bleak and ever twisting story. It uses some very innovative narrative techniques while not all the information that the reader will receive is reliable.
I was lucky enough to be able to read and review this novel nearly two years ago and I am delighted that many other readers will be able to do so. The one-time mathematician now author reveals her greatest puzzle yet with Black Ice and with a translation by one of our finest Swedish to English translators Ian Giles, this novel will help you avoid those January blues.
Set appropriately in January upon the Swedish island of Gotland on a deserted, remote and icy backroad a group of strangers will meet brought together by the wintry conditions, An accident and two deadline crimes will change their lives forever with a mystery that will only be solved years later.
Black Ice by Carin Gerardson, translated by Ian Giles is published by Head Of Zeus on 5 January 2023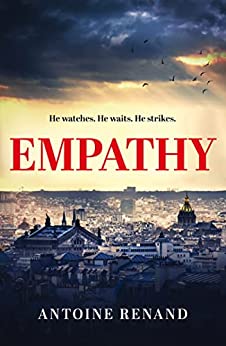 2. A heart pounding thriller from Paris
How about this for a heart pounding way to start the new year?
Imagine that on your phone, you discover photos of a stranger, taken downstairs in your house while you were sleeping upstairs. Or even worse: after waking up in your apartment, your surveillance system's footage of last night shows a strange man, standing silently and motionlessly beside your bed, in the dark, watching you sleep.
The main character in the novel is Alpha, the "Lizard," capable of climbing the most impossible facades in Paris and sliding into every bedroom. He also intentionally leaves behind certain clues. He seems to relish in a perverse game of cat and mouse with the police and thus prolonging the thrill of his crimes. It is certainly enough to ensure that you'll never leave your windows open at night again.
Two agents from Paris's special unit dedicated to sex crimes are on his tracks: Anthony Rauch and Marion Mesny. Neither has chosen this role by chance: troubled pasts and traumatic experiences set them both on this course. For months now, they have been duped by Alpha, whose frequent crimes have become more and more violent and disturbing. At their wits' ends, they are prepared to do whatever it takes, even risking their lives, to stop and arrest this monster.
Renand intends to show us absolute evil incarnated by a terrifying serial killer. However, there are also shades of good and evil in the novel. This makes us empathise with his characters' inner struggles against their own demons. So far it appears to have worked as Empathy and its follow-up Close Your Eyes were finalists in the Prix Maison de la Presse Award Finalist 2019. Empathy was also the winner of the Gouttes de Dang d'Encre Readers Prize.
With a translation by an award-winning literary translator Frank Wynne (Pierre Lemaitre, Michel Houellebecq, Frederic Beigbeder, Virginie Despentes) it's certain nothing will be lost in translation.
Empathy by Antoine Renand, translated by Frank Wynne is published by Welbeck on 6 January 2023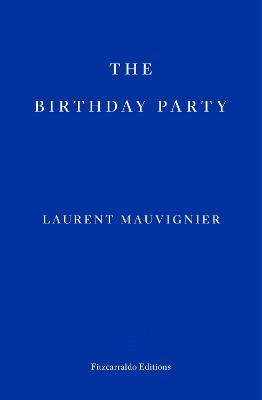 3. A slow burning suspense from rural France
My third choice is from a very different French author set in a wholly contrasting part of France. Laurent Mauvignier has had novels published in English before focused on the Heysel disaster and the aftermath of the Algerian War.  With The Birthday Present, his focus is upon a community in an isolated hamlet of rural France.
There are four main characters: Patrice Bergogne, inheritor of his family's farm; his wife, Marion; their daughter, Ida; and their neighbour, Christine, an artist. While Patrice plans a surprise for his wife's fortieth birthday, inexplicable events start to disrupt the hamlet's quiet existence: anonymous, menacing letters, an unfamiliar car rolling up the driveway. And as night falls, strangers stalk the houses, unleashing a nightmarish chain of events.
As with other novels published by Fitzcarraldo Editions, the focus is greater on the impact of crime rather than the crime itself. The publisher describe the book as "a deft unravelling of the stories we hide from others and from ourselves, a gripping tale of the violent irruptions of the past into the present."
The book has already gained the attention of some of Mauvignier's peers with author Patrick McGuinness 'This is a tension-ratcheting novel in which, over the space of a single day, the past breaks brutally into the present… Mauvignier merges psychological depth and penetrating character study with the relentlessness of a cold-blooded thriller. A triumphant, genre-crossing book' with Jon McGregor calling The Birthday Party "a strange and marvellous thing: a thriller in slow motion while Kirkus describe it as a compelling blend of mystery, horror, and suspense.'
The Birthday Party by Laurent Mauvignier, translated by Daniel Levin Becker is published by Fitzcarraldo Editions on 15 January 2023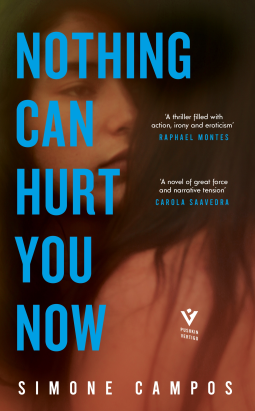 4. An unpredictable, feminist and political suspense from Brazil
For those lamenting the passing of Luiz Alfredo Garcia-Roza and lack of future translations by the excellent Patrícia Melo, the emergence of Simone Campos offers the promise of more crime fiction from Brazil.
Everyone in Brazil knows Campos writes striking female characters. Via those she creates, Campos portrays a generation disillusioned by frustrations, pressured by beauty standards and their own 'share of nightmares'.
Nothing Can Hurt You Now is her first crime fiction novel. Having lived her life in the shadow of her glamorous and outgoing high-end model sister Viviana, Lucinda has to drop everything when Viviana suddenly disappears on a trip to Sao Paulo. Lucinda drops everything to track her down. She goes to the police but they are no help at all. So,  Lucinda launches her own investigation with Viviana's girlfriend Graziane. A list of possible suspects widens when they discover Viviana worked as a sex worker. Then, they discover that she is being held hostage. They must track down the men from Viviana's past to discover who might want to do her harm.
Esteemed Brazilian crime writer Raphael Montes has described the book as her best yet: "A thriller full of action, irony and eroticism, with string women in a frantic search."
Gisele Barão at Jornal Rascunho praises how the "disrespect for women's voices, their will and the invasion of their space" within society is shown in the substories in addition to the main plot. As well as being a successful author, Campos has also worked as a literary translator, having translated Paula Hawkins' Girl On the Train and Margaret Atwood's The Testaments into Brazilian Portuguese.
Nothing Can Hurt You Now by Simone Campos, translated by Rahul Bery is published by Pushkin Press on 2 February 2023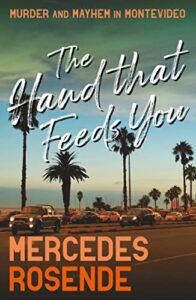 5. A bungled heist on the mean streets of Montevideo
For those who missed the publication of Crocodile Tears in 2021, never fear. You still have time to gain an introduction to Mercedes Rosende. This book isn't out until February. Ursula Lopez is far from your average anti-hero however. She is a murderess with a sense of humour and is both lovable yet edgy. Due  to her looks, she is practically invisible to the men who dominate the deeply macho society of Uruguay.
Reviews from Rosende's home country describe this as a "dizzying and captivating black novel where the psychology of the characters is as suggestive as the action that accompanies them". In this case, the story unfolds into multiple stories set in a hidden and unusual Montevideo for mere mortals. Intrigues, deaths, robberies, corruption, blackmail and secrets surround the protagonist.
The Hand That Feeds You by Mercedes Rosende, translated by Tim Gutteridge is published by Bitter Lemon Press on 23 February 2023
Come back for part 2 next week- so much more translated goodness where this came from!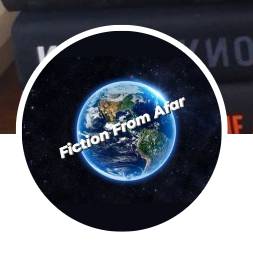 Twitter:   @FictionFromAfar  Instagram : @fictionfromafar