BookTrail to Plummergen with Miss Seeton
Sarah J. Mason (who writes as Hamilton Crane) is your ideal guide for Plummergen as, well, she and Heron Carvic invented it so who better than to guide you around and show you exactly where it is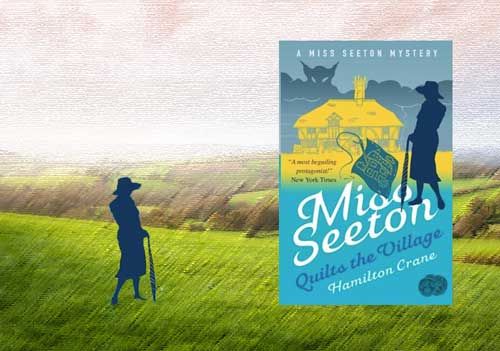 All five of Heron Carvic's books about Miss Seeton mention her cottage in Plummergen, and several refer to the nearby town of Brettenden – but neither shows up on a map of Kent, the county where she lives.
Does the author give us enough clues to suggest that the village and the town might be based on real places?
To help me keep things straight I've sketched out a map of "my" Plummergen to remind myself where people live and where they shop. It doesn't show every single house in the village, but it may help you orient yourselves when you read my stories. If the stories before mine don't quite fit it, then we must assume someone was using a different map!
In Picture Miss Seeton we are told that Rye (a real place) is 5½ miles south of Plummergen, and Ashford (likewise real) is 15 miles to the east.  These aren't distances on a map, because (using a pair of compasses from my school geometry set) the two locations 15 miles from Ashford and 5½ miles from Rye are both in Sussex rather than Kent.  We need more clues.
In Miss Seeton Draws the Line Plummergen's railway station is mentioned.  The railway into Kent from Rye ends up at Ashford, and has only two intermediate stations – those at Hamstreet and at Appledore.
We've known from the first book that Miss Seeton's cottage is near a canal.  In Miss Seeton Draws the Line we learn that it is the Royal Military Canal.  This is 28 miles long and goes past Rye.  The distance from Plummergen to Rye seems to have been a source of irritation, as it's said elsewhere to be "an odd five miles from Rye, but the distance was presumably judged by a crow in a hurry".  If we measure five miles along the Royal Military Canal from Rye, we find ourselves approaching Appledore.
So would Appledore fit any other clues?
"an odd five miles from Rye"?: Appledore is in fact 6½ miles from Rye by road.
"Plummergen Station — which, in true English rural tradition, is some two miles south of the village on the road to Romney Marsh – branch left for Ashford" … "Ashford (15 miles east)": Appledore station is 1½ miles from the centre of Appledore, it's on Romney Marsh, and the journey to Ashford by road is 15 miles if you take the route past Appledore station.
Miss Seeton's cottage is "at the southern end of The Street": sure enough, the main street of Appledore is called just The Street, which seems to confirm the identification of Appledore as the inspiration.
Finally, "Plummergen was only about six miles beyond Brettenden":  After a six mile drive towards London from Appledore we come to Tenterden, which sounds remarkably similar to the invented name.
Just why Heron Carvic chose Appledore as the setting for Miss Seeton's adventures finally became clear in 1978, the year after his last book, Odds On Miss Seeton, was published.  British newspapers often report the value of Estates left by notable people, including that of the actress Phyllis Neilson-Terry, who died in 1977.  She was listed under her married name: Mrs Phyllis Carvic of Appledore, Kent.
If only Google had been running its Streetview cameras up and down our roads in the early 1970s we could have seen Appledore as Heron Carvic saw it!  Fortunately we can get an idea of how it must have looked, because photographers from Francis Frith visited Appledore in the 1950s, and several of their photographs are available on the internet.  There's a pub where Plummergen's "George and Dragon" needs to be, and a small house with a narrow lane running past it where Miss Seeton's cottage "Sweetbriars" looks directly up The Street.  There are also pictures of the church, and the canal; you can also see several shops from those days, long since converted into private homes.
Despite apparently working from life, Heron Carvic's topography for Plummergen doesn't always find a perfect match in Appledore.  Crabbe's Garage, for example, should (according to the books) be next to the bus stop close to the Post Office, but there's no trace of any garage in the centre of the real village at any time.  Miss Seeton Draws the Line describes a memorable fight in a part of The Street that had to be close to the "George and Dragon", Miss Wicks's cottage and the village hall …
I hope it will enhance your enjoyment of the series.
Hamilton Crane