The Devil's Playground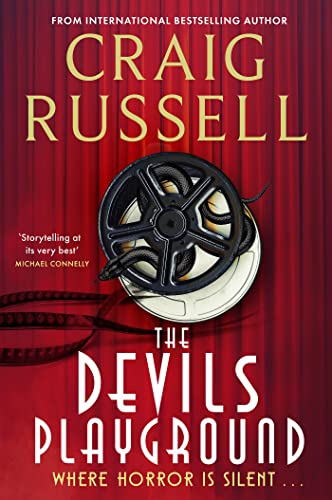 Why a Booktrail?
1927, 1967: Is the real Devil's Playground in fact Hollywood itself.
What you need to know before your trail
1927: Hollywood studio fixer Mary Rourke is called to the palatial home of "the most desirable woman in the world", silent movie actress Norma Carlton, star of The Devil's Playground. When Rourke finds Carlton dead, she wonders if the dark rumours she's heard are true: that The Devil's Playground really is a cursed production. But nothing in Hollywood is ever what it seems, and cynical fixer Rourke, more used to covering up the truth for studio bosses, finds herself seeking it out.
1967: Paul Conway, film historian and fervid silent movie aficionado, is on the trail of a tantalizing rumour: that a single copy of The Devil's Playground-a Holy Grail for film buffs that was supposedly cursed and lost to time-may exist. His search takes him deep into the Mojave Desert, to an isolated hotel that hasn't changed in forty years but harbours only one occupant-and a shocking secret.
Travel Guide
Oh to be back in Hollywood in the turbulent 1920s This was the time that the talking movies were about to not just enter the world, but change the world.
Carbine International Pictures in the book is fictional but there were many studios like it, making ground breaking movies and wanting to be first to be make their mark on this new industry.
The evocation of time and place is excellent – it's a time of prohibition and speakeasys,houses bigger and more grandiose that you can ever imagine and cars that cost more than ten of them put together.
This is the Hollywood of the Gatsby era – drugs, overflowing drinks, parties and all the debauchery that goes with it.
In movie land, there has always been stories of the movie that has been 'cursed' in some way. Horror movies for example are known for having some really bad things happening on set. In the novel, the 'cursed' movie in question is called The Devil's Playground, billed as the most spectacular horror movie of all time, but it's one where there are a series of incidents on and off set….
The set is the Devil's Playground turns out to be a remote and secret place in the CA desert  – a place no longer there by the name of  Sudden Lake.
There are jaunts to the Dahlman and Darke Magic Lantern show in Kansas, and the deep and dangerous swamps of Louisiana..
BookTrail Boarding Pass: The Devil's Playground
Destination/location:  Hollywood, Louisiana, Kansas  Author/guide:  Craig Russell Departure Time:1927, 1967
Back to Results