Cold Malice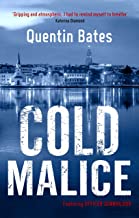 Why a Booktrail?
2000s: Has a dead man returned to settle some scores?
What you need to know before your trail
Reykjavik detective Gunnhildur Gisladottir tries not to believe in ghosts. But when Helgi, one of her team is certain he's seen a man who had been declared dead more than fifteen years ago, she reluctantly gives him some unofficial leeway to look into it. Has the not-so-dead man returned from the grave to settle old scores, or has he just decided to take a last look around his old haunts? Either way, there are people who have nursed grudges for years, hoping for a reckoning one day. Even the rumour of his being alive and kicking is enough to spark a storm of fury and revenge, with Gunnhildur and Helgi caught up in the middle of it.
Travel Guide
Back to Iceland with Quentin Bates
It's winter when Ingvar returns to Iceland, travelling under a false identity, staying in a hotel in Reykjavík's Skuggahverfi while he gets his bearings.
Police officer Helgi is certain he's caught a glimpse of a man he knows ought to be dead, as he and Ingvar grew up in the same district, and Helgi gets grudging permission from his boss, Gunnhildur, to look into the mystery – while she looks into a morbid suicide that took place next to the lake at Hafravatn, a small lake on the eastern outskirts of Reykjavík, Iceland. Located at 76 m above sea level, it has an area of 1.02 km² with a greatest depth of 28 m.
The Seljadalsa River flows into it from the east and its discharge is Ulfarsfellsa. A small village lies on the northern bank of the lake and a paragliding take-off point on its eastern side. The smaller lake of Langavatn lies to its southwest and the long-buried secret of what happened one hot summer night by the lake all those years ago.
BookTrail Boarding Pass: Cold Malice
Destination/location: Iceland, Reykjavík  Author/guide: Quentin Bates Departure Time: 2000s
Back to Results