Under the Italian Sun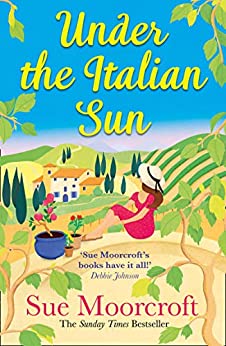 Why a Booktrail?
2000s: Imagine going to Italy to find your family?
What you need to know before your trail
A warm, sun-baked terrace.
The rustle of verdant green vines.
The sun slowly dipping behind the Umbrian mountains.
And the chink of wine glasses as the first cork of the evening is popped…
Welcome to Italy. A place that holds the answer to Zia-Lucia Costa Chalmers' many questions. Not least, how she ended up with such a mouthful of a name.
When Zia discovers that her mother wasn't who she thought she was, she realises the time has come to search out the Italian family she's never known.
However, as she delves into the secrets of her past, she doesn't bargain on having to think about her future too. But with local vineyard owner, Piero, living next door, Zia knows she has a serious distraction who may prove difficult to ignore…
This summer, join Zia as she sets out to uncover her past. But can she find the future she's always dreamed of along the way?
Travel Guide
Spend an Italian Summer in Umbria with Sue Moorcroft
'Umbria – The green yet rugged heart of Italy'
Apennine Mountains
"The Apennine mountains in their dusty purple and green summer clothes passed the other end of the valley like a herd of great migrating beasts."
Monteliberta
The village is fictional but there are a few places beginning with M just north of Orvieto where Monteliberta is located.
Imagine coming to Umbria and the stunning Italian landscape to find your family and your roots, and to fall in love! It's the place to fall in love!
BookTrail Boarding Pass: Under the Italian Sun
Destination/location: Umbria Author/guide:  Sue Moorcroft Departure Time: 2000s
Back to Results