Summer on a Sunny Island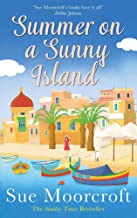 Why a Booktrail?
2000s: This summer, sparks are flying on the island of Malta…
What you need to know before your trail
When Rosa Hammond splits up from her partner Marcus, her Mum Dory suggests a summer in Malta. Not one to sit back and watch her daughter be unhappy, Dory introduces Rosa to Zach, in the hope that romance will bloom under the summer sun. But Rosa's determined not to be swayed by a handsome man – she's in Malta to work, after all.
Zach, meanwhile, is a magnet for trouble and is dealing with a fair few problems of his own. Neither Rosa or Zach are ready for love – but does fate have other ideas? And after a summer in paradise, will Rosa ever want to leave?
Travel Guide
Travel and visit Malta to have Summer on a Sunny Island BookTrail style
"The Maltese sun was setting in a blaze of lilac and pink. In the sea creek, a row of red and blue ferries bobbed at their moorings…"
"…Beyond them, the skyline of the capital city, Valletta, on the other side of Marsamxett Harbour, was becoming a silhouette of ramparts and domes and spires."
Sliema
The small town where the novel opens and where Rosa is sat twirling her wine glass! Just across the harbor is the city of Valletta.
Valletta
The buildings in Valetta are amazing and so's the view of Grand Harbour on the other side of the city. And don't miss Mdina."
Paceville
"Paceville's the place to go if you want to get your party on."
BookTrail Boarding Pass: Summer on a Sunny Island
Destination/location: Malta   Author/guide: Sue Moorcroft  Departure Time: 2000s
Back to Results