The Tuscan Contessa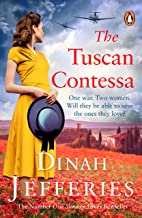 Why a Booktrail?
1943: The Nazis arrive in rural Tuscany but the people stand tall
What you need to know before your trail
Contessa Sofia de' Corsi's peaceful Tuscan home has been upturned by the arrival of German soldiers. Desperate to fight back, she provides shelter, medical aid and any help she can, keeping her efforts secret from husband Lorenzo – who is also passing information to the Allies.
When Maxine, an Italian-American working for the resistance, arrives on Sofia's doorstep, the pair forge an uneasy alliance. Practical, no-nonsense Maxine promised herself never to fall in love. But when she meets a young partisan named Marco, she realizes it's a promise she can't keep.
Before long, the two women find themselves entangled in a dangerous game with the Nazis. Will they be discovered? And will they both be able to save the ones they love?
Travel Guide
Travel back in time to 1940s Tuscany with the Tuscan Contessa
The author's fictional village, Castello de' Corsi, was inspired by and is based on the fortified hilltop settlement of Castello di Gargonza. She also combined elements of other medieval villages and hamlets around the region too during her research trips.
The fictional village is however not exactly where the real Gargonza is located. The author has placed in on the hills  north of the Val d'Orcia, south of the Crete Senesi and west of the Val D di Chiana. This was for the purposes of bringing the story closer to the action of the front line of war.
"Rising over the small square, an ancient tower is set into the buttressed walls – the tower of my story."
Monte San Savino
The author researched this village and she says as you enter, you feel as if you have arrived in a mythical past. She was there one November when the early-morning mists enveloped the ancient walls,adding to the already overwhelming atmosphere of inaccessibility.
BookTrail Boarding Pass: The Tuscan Contessa
Destination/location: Tuscany  Author/guide: Dinah Jefferies Departure Time: 1943
Back to Results