Together by Christmas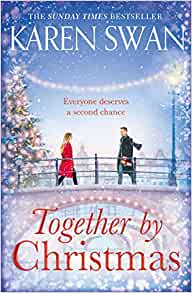 Why a Booktrail?
2000s: Romance in Amsterdam
What you need to know before your trail
When Lee first came to Amsterdam, it was with a newborn baby and a secret. Five years later, her life is approaching normal: her career as a celebrity photographer is flourishing, her son Jasper is growing up, and they are enjoying the run-up to Christmas with their tight circle of close friends.
But all this changes one morning when Lee finds a book in the basket of her bicycle – and scrawled inside it, a desperate message. Who left it for her, and why? Lee feels compelled to help and tracks down the book's author, Sam. With an instant, undeniable connection it seems they might have a shot at a real future together.
Until her past comes calling. As the snow falls and ice thickens on the city's canals, the secret Lee has never told resurfaces. Suddenly everything she holds dear hangs in the balance. Christmas is a time for being together – but what if the truth means she ends up alone?
Travel Guide
Visit Amsterdam at Christmas BookTrail style
"The city was teeming with visitors none of them yet put off by the cold wind and icy cobbles when there were illuminated Christmas trees, festive shop windows and pretty lights to admire."
"Just like the city's seventeenth-century Golden Age, there were too many people and not enough terra firma to go round."
It was one of the city's quirks that its in habitants never drew their curtains, living their lives in plain, unabashed view of the neighbours, and this had been one of the hardest things for her to adjust to when she had first come back."
BookTrail Boarding Pass: Together by Christmas
Destination/location: Amsterdam Author/guide: Karen Swan  Departure Time: 2000s
Back to Results