Three Words for Goodbye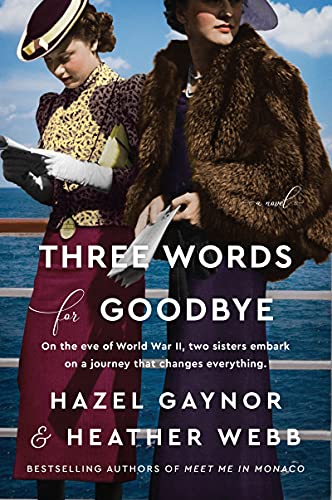 Why a Booktrail?
1937: Three cities, two sisters, one chance to correct the past . . .
What you need to know before your trail
New York: When estranged sisters Clara and Madeleine Sommers learn their grandmother is dying, they agree to fulfill her last wish: to travel across Europe—together. They are to deliver three letters, in which Violet will say goodbye to those she hasn't seen since traveling to Europe forty years earlier; a journey inspired by famed reporter, Nellie Bly.
Clara, ever-dutiful, sees the trip as an inconvenient detour before her wedding to millionaire Charles Hancock, but it's also a chance to embrace her love of art. Budding journalist Madeleine relishes the opportunity to develop her ambitions to report on the growing threat of Hitler's Nazi party and Mussolini's control in Italy.
Constantly at odds with each other as they explore the luxurious Queen Mary, the Orient Express, and the sights of Paris and  Venice.. Clara and Madeleine wonder if they can fulfil Violet's wish, until a shocking truth about their family brings them closer together. But as they reach Vienna to deliver the final letter, old grudges threaten their reconciliation again. As political tensions rise, and Europe feels increasingly volatile, the pair are glad to head home on the Hindenburg, where fate will play its hand in the final stage of their journey.
Travel Guide
A train journey from Paris, Venice to Vienna
There are some fine locations and even finer modes of transport in this book! We start with the Queen Mary which sails from New York to Cherbourg. From Paris, it's the Orient Express to Venice and finally across country to Austria before returning home on the ill-fated Hindenburg.
Queen Mary
The RMS Queen Mary is a retired British ocean liner that sailed primarily on the North Atlantic Ocean from 1936 to 1967 for the Cunard-White Star Line.
Orient Express
On 14 December 2009, the Orient Express ceased to operate and the route disappeared from European railway timetables. However, the Venice-Simplon Orient Express train, a private venture started up  using the original CIWL carriages from the 1920s and 1930s. This continues to run from London to Venice and to other destinations in Europe, including the original route from Paris to Istanbul.
Hindenburg
The Hindenburg disaster was an airship accident that occurred on May 6, 1937, in Manchester Township, New Jersey, United States.
Booktrail Boarding Pass:  Three Words for Goodbye
Destination/location : New York City, Paris, Venice, Vienna Author/Guide: Hazel Gaynor and Heather Webb  Departure Time: 1937, 2000s
Back to Results