The Bird in the Bamboo Cage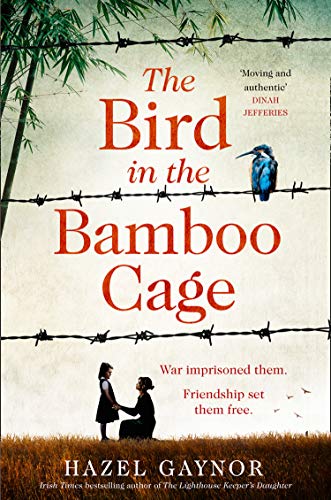 Why a Booktrail?
1941: Inspired by true events, a remarkable story of hope
What you need to know before your trail
China, 1941. With Japan's declaration of war on the Allies, Elspeth Kent's future changes forever. When soldiers take control of the missionary school where she teaches, comfortable security is replaced by rationing, uncertainty and fear.
Ten-year-old Nancy Plummer has always felt safe at Chefoo School. Now the enemy, separated indefinitely from anxious parents, the children must turn to their teachers – to Miss Kent and her new Girl Guide patrol especially – for help. But worse is to come when the pupils and teachers are sent to a distant internment camp. Unimaginable hardship, impossible choices and danger lie ahead.
"I hope that by writing this relatively unknown story of World War II, and by following in the footsteps of the remarkable girls and boys, women and men who lived through those years, that their experience will become more widely known and their story will live on.
We owe them all an enormous debt of gratitude."
– Hazel Gaynor
Locations
Reset
China - Shandong Province
Travel Guide
A remarkable true story of Chefoo, China
Yantai, alternately known as Zhifu or Chefoo, is a coastal prefecture-level city on the Shandong Peninsula in northeastern Shandong province of People's Republic of China.
Hazel writes in her author note that once she found out about the true life story of a group of school children and their teachers taken to a Japanese internment camp, she knew she had to write about it.
She accessed the Chefoo School archives held at the School of Oriental and African Studies (SOAS) in London and the story cam from there and her imagination.
Booktrailer Review
This is quite a remarkable story made even more so by the fact that it is based on true facts. The author has done so clever research here and taken the facts to thread together a story of human interest and emotions. I feel quite teary just thinking about how children must have felt being trapped in their school and threatened by the invading Japanese army. How their teachers made it into an adventure. My heart throbbed for each and every one of them.

A remarkable tale true or not. Add the fact that Hazel Gaynor has incorporated the real-life story of Olympian athlete Eric Liddell, also interred at the camp and how he provided inspiration to many of the children based there and you have a rich tale which is so worth reading.
BookTrail Boarding Pass: The Bird in the Bamboo Cage
Destination/location:  Chefoo  (China)  Author/guide: Hazel Gaynor Departure Time: 1940s
Back to Results