The Great Silence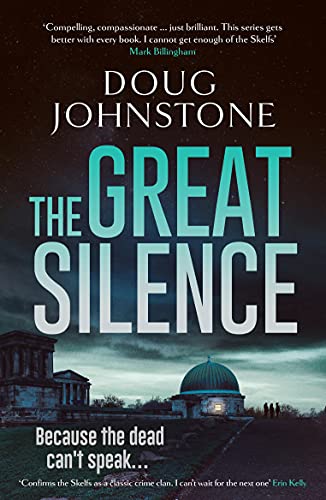 Why a Booktrail?
2000s: Third installment of the Skelf series
What you need to know before your trail
Keeping on top of the family funeral directors' and private-investigation businesses is no easy task for the Skelf women, and when matriarch Dorothy discovers a human foot while walking the dog, a perplexing case presents itself … with potentially deadly results.
Daughter Jenny and grand-daughter Hannah have their hands full too: The mysterious circumstances of a dying woman lead them into an unexpected family drama, Hannah's new astrophysicist colleague claims he's receiving messages from outer space, and the Skelfs' teenaged lodger has yet another devastating experience.
Nothing is clear as the women are immersed ever deeper in their most challenging cases yet. But when the daughter of Jenny's violent and fugitive ex-husband goes missing without trace and a wild animal is spotted roaming Edinburgh's parks, real danger presents itself, and all three Skelfs are in peril.
Travel Guide
Edinburgh with Doug Johnstone
You get to see every nook and cranny of the city in this novel. The dark corners of course are most prominent but there are some nice images pointed out too such as the stunning McEwan Hall which is part of the university.
Bruntsfield is a lovely place to walk your dog but watch out for what might be hidden in the treees and bushes if this novel i anything to go by!
The city's streets and parks are well represented and evoked. We are also back in Skelf territory – the dark, sharp, raw streets of their surroundings. We are back in this world given that this is the last in the trilogy. However, this is not a world you can easily forget.
BookTrail Boarding Pass: The Great Silence
Destination/location: Edinburgh  Author/guide: Doug Johnstone  Departure Time: 2000s
Back to Results