Black Hearts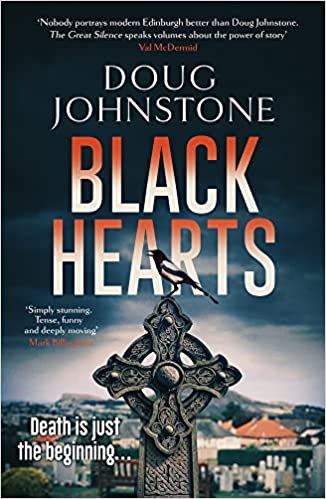 Why a Booktrail?
2000s: Death is just the beginning…
What you need to know before your trail
The Skelf women live in the shadow of death every day, running the family funeral directors and private investigator business in Edinburgh. But now their own grief interwines with that of their clients, as they are left reeling by shocking past events.
A fist-fight by an open grave leads Dorothy to investigate the possibility of a faked death, while a young woman's obsession with Hannah threatens her relationship with Indy and puts them both in mortal danger. An elderly man claims he's being abused by the ghost of his late wife, while ghosts of another kind come back to haunt Jenny from the grave … pushing her to breaking point.
As the Skelfs struggle with increasingly unnerving cases and chilling danger lurks close to home, it becomes clear that grief, in all its forms, can be deadly…
Travel Guide
Edinburgh with the Skelfs
What a journey around Edinburgh this is! A few graveyards, more dark corners and a beach with a body. that's just for starters as we get a pretty grim guided tour around areas of the city, from Bruntsfield to the alluring Leith which Dorothy is a fan of.
It's the way Doug writes about the streets and lanes that really makes Edinburgh pop:
"Ferry Road was such a long artery through the north of the city that it changed character umpteeen times."
And the weather and the pubs get a nice mention – with Scottish vocabulary of course!
"Leslie's Bar was  a nice haven from the dreich weather outside. Dorothy loved that Scots word."
BookTrail Boarding Pass: Black Hearts (Skelfs 4)
Destination/location:  Edinburgh Author/guide: Doug Johnstone Departure Time: 2000s
Back to Results