Keeping a Christmas Promise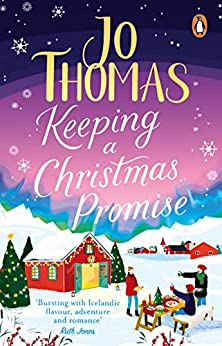 Why a Booktrail?
2022: A Christmas to remember for a friend they'll never forget
What you need to know before your trail
Twenty-five years ago, Freya and her three best friends created a bucket list. The future seemed bright, full of hope and most importantly guaranteed . . .

Now they are travelling to Iceland in memory of the friend they've lost, determined to fulfil her dream of seeing the Northern Lights at Christmas.

They didn't count on an avalanche leaving them stranded! Handsome local, Pétur, comes to the rescue, showing them how the community survives the hard winter. With Christmas approaching, Freya and her friends throw themselves into the festivities, decorating and cooking for the villagers using delicious local ingredients.

But will the Northern Lights appear so they can honour their friend's wish? And can Freya's own dreams come true, this Christmas?
Travel Guide
Iceland's magic and the Northern Lights
The landscape in this book is amazing. There is a sad overtone to the novel – going somewhere to pay homage to a friend who has died. The cold landscape is beautiful but it gives the women in the novel time for reflection.
This is not your tourist part of Iceland though – it's very remote and they don't go to the typical tourist places to see the Northern Lights. This is a very remote and special visit.
"Believe me, everyone in Iceland knows everyone else. It's hard to change direction if everything around you is familiar. This place is somewhere for the women to take time out and get their lives back on track." We all need a little red house and time to enjoy it, right?!
"We didn't need to see the Lights to celebrate her life. We just needed to stop living 'our best lives' and take some time out to listen to our hearts."
Booktrail Boarding Pass:  Keeping a Christmas Promise
Destination : Iceland  Author/Guide: Jo Thomas  Departure Time: 2022
Back to Results