Insidious Intent
Why a Booktrail?
2000s: There's a murder on the loose in Bradfield and he's targeting wedding guests…
What you need to know before your trail
Weddings might not be the best place to be if you're single, but they rarely end in murder. In Insidious Intent, single women at weddings are being targeted and found later killed in some way.
One night on a country road, the police go to investigate a burning car; the fire the only light in the rural landscape. As the investigation unfolds, DCI Carol Jordan and psychological profiler Tony Hill quickly realise that this is more than just a tragic accident. And so begins the hunt for a truly terrifying killer, someone who believes he is invisible, untraceable and untouchable.
Tony and Carol are about to be drawn into a dark and twisted web of fear and revenge that will force them to question their own ideas of justice . .
Travel Guide
Bradfield
There is no city called Bradfield – well there is but it's fictional and only in the mind of Val McDermid and her legions of fans of course. It's a mix of several Northern towns and cities and Val herself places it somewhere near Todmorden.
So to get a feel for the place in the novels, it's an epic booktrail! – Todmorden, Bradford and Sheffield. There is funnily enough a village called High Bradfield and one called Low Bradfield so a visit to those would be a good idea as well.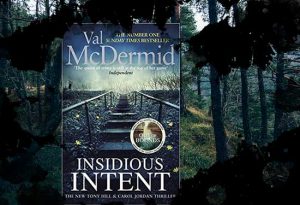 Booktrailer Review
Susan: @thebooktrailer

There's a reason why Val McDermid is at the top of her game and one of the undisputed stars of crime fiction. It seems ages since I last read a Tony Hill book but it's as if he's never been away. Oh and Carol Jordan of course, but it's that cheeky Geordie grin of Robson Green's I now picture as I read. And it was like welcoming back an old friend.

Single women at weddings – some would say they feel hunted and vulnerable anyway – although this takes it to a whole new level. The plot starts with a killer sentence if you excuse the pun – and then ramps up for one heck of a ride. Bradfield feels more real than many others places I've ever been and even though it's fictional, you can tell Val knows and cares about the area she has built and put on the literary map.

Insidious intent – that's quite a title and the stairs on the cover…looks really chilling and dark. Stairs leading nowhere…this is an apt image for this book. Sharp writing, tight plotting and a developing relationship between Tony and Carol which was interesting to see. Yes, this book got me gripped early on and it didn't let go. The way these women disappear, that burning car…it's frenetic, crisp and a brilliant edition to the Bradfield library.
Booktrail Boarding Pass:  Insidious Intent
Author/Guide: Val McDermid  Destination: Bradfield Departure Time: 2000s
Back to Results