Then She Was Gone (Di Murphy & Ds Rossi 5)
Why a Booktrail?
2000s: A man takes his baby daughter for a walk when tragedy strikes..
What you need to know before your trail
Tim Johnson took his baby daughter out for a walk but he tells the police they were ambushed and his daughter taken. The Police however suspect Tim is not telling the truth and that something all the more sinister seems to have taken place
A year later, Sam Bryne is on course to be elected as one of the youngest MPs in Westminster. He's tipped for the very top … until he vanishes.
Detectives Murphy and Rossi have quite the case on their lands and during the investigation will unearth a trail that stretches back into the past and one which leads to a deadly conclusion. When will it all stop?
Travel Guide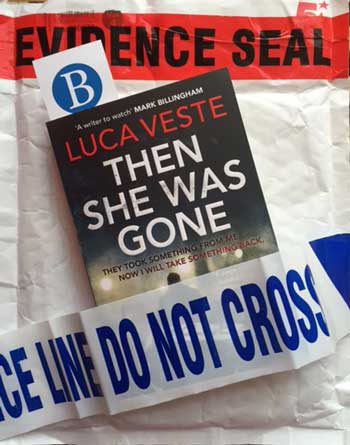 Liverpool
You'll not forget Liverpool in a hurry when you travel with Luca Veste as your guide!
Liverpool, Wirral and the rest of Merseyside is the scene of the crime as is the world of politics and politicians, a revenge ploy which involves the city's university and the number of immigrants who have settled in the city.
Luca writes with skill and Scouse wit – he has more than an insight into criminology and psychology given his own background and study. Brought under the spotlight and the microscope in this case.
The world of local politics comes into play with Sam Byrne and his campaign to become the first elected Tory MP for Liverpool in a generation.
What a tangled web we weave.
Booktrailer Review
Susan: @thebooktrailer

My favourite in the series so far and given that I've really been engrossed in the others, this is the sign that this book is something else. Where else can I go for some heartthumping mystery wrapped up in enigma and intrigue? Well Luca Veste's Liverpool is firmly on the list. This is a great fourth book and has so many levels to keep you entertained.

This is a fine and very slick, punch in the side of your head when you least expect it, police procedural with some social commentary and frightening situations. Oh and the gritty reality, the Scouse humour and the Veste touch – a deep love and knowledge of Liverpool and Merseyside combined with his academic insights into crime and criminals.

"When it's one word against another, those without power always lose".

The book proof for this came days after a mysterious postcard telling me "You know their story you will have your revenge" Well when the book popped through the post a few days later in an evidence bag wrapped in police incident tape, the  mystery was solved. Well that one was – the book gave me another set of shocks and surprises all together!
Booktrail Boarding Pass Information: Then She Was Gone (Di Murphy & Ds Rossi 5)
Author/Guide: Luca Veste Destination: Liverpool    Departure Time: 2000s
Twitter:@LucaVeste     Facebook: /Luca-Veste     Web: lucaveste.com
Back to Results