The Body on the Train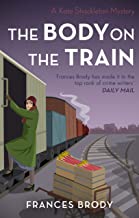 Why a Booktrail?
1929: The 11th in the Kate Shackleton series
What you need to know before your trail
1929, London.
In the darkness before dawn, a London railway porter discovers a man's body as he unloads a special goods train from Yorkshire, all means of identification stripped away. Hitting a dead end, Scotland Yard call on indomitable sleuth Kate Shackleton, hoping her local Yorkshire knowledge and undoubted skills at winkling out information will produce the results they need.
1929, Yorkshire.
Fears of unrest in the Yorkshire coalfields mean that Kate must conduct her investigation with the utmost secrecy. But when she discovers that another murder occurred around the same time as the mysterious body on the train, she is convinced there must be a connection. Using her sharp instincts and persuasive charm, she begins to uncover a web of intrigue that edges her closer to the truth. But with attempts being made on her life, Kate needs all the strength and resourcefulness she can muster, before she becomes the next victim . . .
Travel Guide
BookTrail a train journey from Yorkshire to London
The body of a man is found naked and wrapped in a sack onboard a rhubarb train from Yorkshire to London. Kate is from Yorkshire and so she can speak the local lingo so is asked to help with the case. These southerners seem to think the North is a different planet! haha
London
The novel is set in an around Scotland Yard as they are looking into the matter. They believe the man may have been a Russian spy and there are some secrets to come from this. The suspicions link him to the fact that the country was crippled by a coal strike and the government is worried that the country could fall into the same kind of problem and economic downfall as then.
Yorkshire
Wakefield is where Kate returns to and where she visits a childhood friend. Wakefield might be small but there's a lot going on – murders and all sorts! Plenty of Kate to get involved with. This is the village that Kate knows, isn't it? Seems that this small village has more than a few big secrets. A lovely, rural and quaint countryside village soon becomes a hotbed of mystery.
Booktrailer Review
A nice little mystery this one. A very unusual premise too – how many times do you find a body tucked inside a sack on a rhubarb train? What is a rhubarb train? Ha well apparently there was a train that would come all the way from Leeds (famous for its rhubarb at the time don't cha you) to London. Then there's a mystery about an orphanage and the two threads take Kate around the houses and back again looking for answers.

The English 1920's setting is nice and I was pleased to be back in Kate Shackleton's company. She is brought into a case given her local knowledge but that first chapter is stuffed with blatant sexism and I don't know how she didn't smack anyone in the room to be honest. Or at least stuck out her foot and tripped someone up 😉

The investigation and subsequent reveal were nicely done and this is a fine cosy mystery easy to get into and even more comforting to see the villain or villains get their comeuppance.
BookTrail Boarding Pass: The Body on the Train
Destination/location: Yorkshire, Wakefield, London  Author/guide: Frances Brody  Departure Time: 1920s
Back to Results