Reykjavik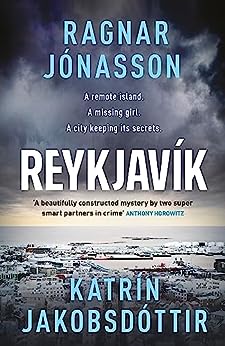 Why a Booktrail?
1956, 1986:What happened to Lara Marteinsdóttir?
What you need to know before your trail
Iceland, 1956. Fifteen-year-old Lára spends the summer working for a couple on the small island of Videy, just off the coast of Reykjavík.
In early August, the girl disappears without a trace.
The mystery becomes Iceland's greatest unsolved case. What happened to the young girl? Is she still alive? Did she leave the island, or did something happen to her there?
Thirty years later in August, 1986, as the city of Reykjavík celebrates its 200th anniversary, journalist Valur Robertsson begins his own investigation into Lara's case. But as he draws closer to discovering the secret, and with the eyes of Reykjavík upon him, it soon becomes clear that Lara's disappearance is a mystery that someone will stop at nothing to keep unsolved . . .
Travel Guide
Videy – island off the coast of Rejkjavik
The Visit Iceland website says:
"The combination of stunning views, historical ruins, and contemporary art pieces make Viðey island something special. Just a short boat ride takes you to another world, to be explored in your own time. From nesting birds and panoramic views to Yoko Ono's famous 'Imagine Peace Tower' and Richard Serra'sMilestones', you'll discover an oasis of peace, beauty, and history. Close to shore, but a world away."
The island here is used as a trap – a place where a young girl went missing from. Did she ever leave? Who in the city knows what happened to her? The island might be beautiful but here it is deadly and mysterious.
Reykjavik
The city is well-evoked. The streets where the characters live, the hospital where one of them lingers and the cafe Mokka which helps them out when they are in need of a coffee fix.
Various parts ot the city are mentioned as one of the characters is building property but these are mentioned in passing. With the PM being a co-author, this is one of the books that merges the political situation in Iceland at the two times mentioned in the novel. Important world events are unfolding as a backdrop.
BookTrail Boarding Pass: Reykjavík
Destination: Reykjavik. Videy   Author/guide: Ragnar Jónasson and Katrín Jakobsdottír  Departure Time: 1956,1986
Back to Results